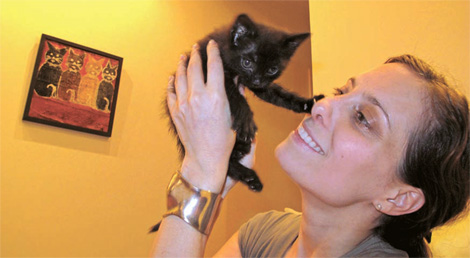 SCAA Foster Care Director Lee-Ann Armstrong is hoping to find a home for this yet-to-be-named five-week-old stray. Photo by Gao Erqiang
Shanghai-based engineer John Miller was used to machine tools not kittens. But when he found one of the cute little felines staring imploringly into his eyes with its life hanging in the balance, the decision to adopt was a no-brainer.
What he didn't realize was that saving its life, by pulling it off the city's mean streets, would also change his.
Used to raising dogs in his native Britain, Miller soon found cats to be a whole new kettle of fish. "Emma" required being nurse-fed by a bottle, but Miller adapted to the maternal role and is now the proud owner of a six-month-old hell-raiser - and torn curtains, and mounds of shredded toilet paper.
But as the practice of adopting pets is growing in the city, especially among foreigners, Miller cautions against taking the plunge.
"Before people consider taking in a pet they should look at their lives and see if they can take care of themselves first," said the 25-year-old.
Most people rush the decision and end up abandoning the animals in gutters or on roadsides. Sometimes fed up owners even sling them out of moving vehicles, or off bridges.
Those that survive often end up homeless. The unfortunate reality, however, is one that the Second Chance Animal Aid (SCAA) is moving to change as they work to provide Shanghai with the proper animal shelters needed to care for the vulnerable.
Since American Carol Wolfson founded the non-profit organization in March 2005, it has helped over 600 cats and dogs through their adoption programs. It currently provides medical care, food and litter for 200 animals.
Wolfson said the number of strays can be reduced by ensuring pets are neutered or sterilized, which helps to put a lid on the city's sprawling animal population. It also helps prevent accidental pregnancies that have led some owners to literally flush unwanted offspring down the toilet.
According to SCAA Foster Care Director Lee-Ann Armstrong, pet overpopulation leads to starvation, illness, accidents and injuries from other animals and cruel people.
"Large populations of strays can also negatively impact the native wildlife population," she added. "The greater the problem, the more chances there are of negative interaction between stray animals and people who are afraid of them or consider them a nuisance."
Although statistics are hard to track, the city has seen a spike in the number of abandoned animals in recent years. Fortunately, the growing popularity of pet adoption is helping to balance the negative trend.
Before taking the leap to add another member to the family, Armstrong said foreigners need to pay attention to China's export and import rules and their own budget.
"Pet adoption is most rewarding when people and pets are well-matched. The best advice SCAA can give people is to look beyond stereotypes to find a healthy and social pet that will adapt well to your lifestyle," she added.
Married couple Daniel Plotnick and Alexa Chiang, now in their 40s, relocated to China from Seattle three years ago. When their cat died of old age in Shanghai, they made contact with the SCAA.
"In the States our cats were adopted from the humane society with great success. We didn't want to fuel the cruel industry behind pet stores and markets. It was never an option for us to buy a pet," said Plotnick.
"The SCAA is doing a wonderful job promoting animal well-being and we wanted to help through more than just a simple donation."
After meeting with Armstrong and other foster parents they brought home a traumatized 4-month-old Egyptian Mau named Gretzky. Two years later, the cat has come out of his shell and left his nightmares of living on the streets long behind him.
The same cat that used to hide behind the microwave now can't wait for the couple to come home and lavish attention on him.
"It's nice to come home and have a happy companion running around our house," said Plotnick.
Briton Rod Shortell, who plans to adopt a rescue dog from the SCAA, said fear of disease is a big turn-off for prospective "parents".
"Cheap or free vaccinations should be available for all dogs whether licensed or not, in order to reduce the incidence of disease," said the IT professional from England.
The dog he brought to China died of illness in Shanghai, creating a hole in his heart that only another furry friend will be able to fill.
"We can foster or adopt and give some cats and dogs a chance at a happier life," he said.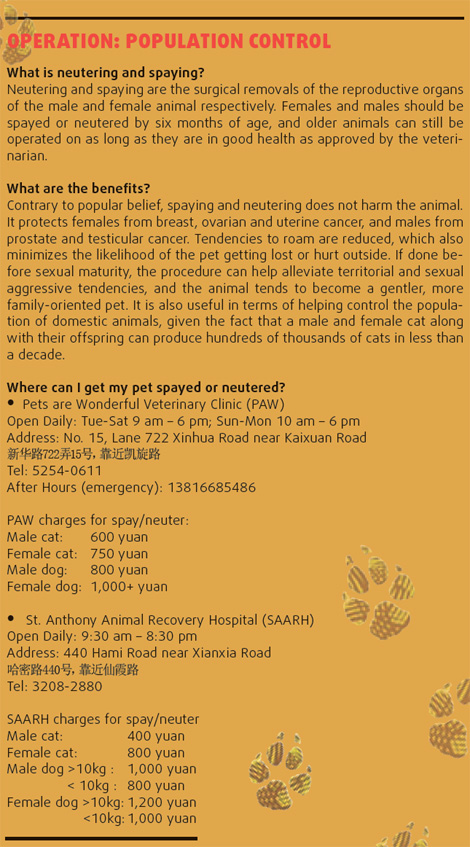 (China Daily 09/05/2009 page13)