Editor's note: This year sees the 100th birthday of Sol Adler, the US Treasury Department's representative to China in World War II and a translator of Chairman Mao Zedong's works. The following is a speech in commemoration of him made by Professor Chen Lin of the Beijing Foreign Studies University, at a meeting jointly held today by the China Society for People's Friendship Studies (PFS) and the university in Beijing to celebrate the occasion for Adler and two other old friends of China, Jack Service and Frank Coe.
Sol Adler was an old friend of the Chinese people and to our senior Party and government leaders, including Chairman Mao Zedong, Premier Zhou Enlai and many others. Ever since WWII, when he was working in the US embassy to China in Chongqing, he was sympathetic with the Chinese people's fight for national independence and democracy. He worked selflessly and conscientiously for and made great contributions to the cause of the Chinese people for liberation and socialist construction and for their endeavor to cement friendship between the Chinese people and peoples of the world.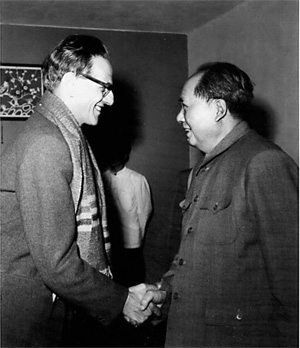 Sol Adler and Chairman Mao Zedong in Beijing in January 1964. Courtesy of PFS
Sol Adler was born on Aug 6, 1909, in England. When he was young he pursued truth and social progress. He came to work in China during the Chinese people's War of Resistance Against the Japanese Invasion. He witnessed the heroic struggles of the Chinese people and also the corruption of KMT's government, and was against its policy of suppressing the Communist-led forces. He showed great concern for and deep sympathy with the cause of the Chinese people's struggle for independence and democracy under the leadership of the Communist Party of China.
Sol Adler, as well as two other friends of China, Jack Service and Frank Coe, confronted the Joseph McCarthy persecution. So Sol left the US to stay in the UK. During this period, he visited China many times and in various ways introduced New China to the outside world. His book The Chinese Economy in 1957 won worldwide acclaim. In 1962, when the Chinese people were facing great difficulties at home and abroad, Sol Adler resolutely decided to come and settle in China.
He said, "I have come to settle in China for three reasons: First, I have all along had great trust and confidence in the Chinese people and their leaders; second, I have all along had unshakable faith in the cause of socialism; and third, I hope to stay in China for as long as possible and work for world peace and the friendship between the Chinese people and the peoples of the world. I want to devote my whole life to the cause of socialism."
During the 1960s and 1970s, both Mao and Zhou showed personal concern for Sol's life and work in China. Many times Party and government leaders met with him and discussed matters of domestic and international importance with him and consulted his ideas and suggestions. In the early 1980s Sol was invited to serve as adviser to China's State Council Development & Research Center, the Ministry of Foreign Trade and Economic Cooperation, and the World Economic & Political Research Institute of the Chinese Academy of Social Sciences. Though he was not in very good health, he made conscientious efforts to carry on investigations and research into China's economic situation and world affairs and put forward valuable suggestions to the Party and the government.
Since China's opening-up to the outside world, Sol showed great enthusiasm and delight for the progress and achievements in the country's socialist construction. At the same time he felt pained about the many distressing matters, particularly the corruption of some government officials and the widening gap between the rich and the people of lower income. Many times, even during his days in hospital, he talked about such things to friends and government officials who went to visit him at his bedside.
One of Sol's many contributions to China and the Chinese people was his work on the English translation of our Party and government documents, including The Selected Works of Mao Zedong. With his deep political understanding, fine language accomplishment, strong sense of responsibility and rigorous academic approach, he made a great contribution to the translation work for this country.
As a matter of fact, it was during the time when I had the great honor and pleasure of working with Sol on the translation of Mao's works that I came to understand the noble qualities of Sol. Therefore, I'd like to take this opportunity to say a few words about my personal respect and love for Sol as an old friend and pupil of his. I say a pupil not in the sense that Sol was an English teacher of mine, although I did learn a lot from him about what is beautiful in the English language during the days we spent together, working or talking at leisure or playing bridge. To me Sol was and will always remain a shining example of a man of high morality, a man of cultivation, a man of integrity. I shall feel forever honored to have been a pupil of Sol's.
Sol always felt that as a foreigner he should not involve himself too personally in China's internal affairs. However, during the days of the Cultural Revolution, Sol and his wife Pat made full use of their special position to protect a number of children of their old friends, including children of leading Party and government officials who were persecuted by the Gang of Four.
One incident more than 30 years ago remains fresh in my mind even to this day. It was in 1976 when Beijing's people poured into the streets to celebrate the downfall of the Gang of Four and the conclusion of the Cultural Revolution. As Pat was then teaching at Beiwai, that is, Beijing Foreign Studies University, Sol decided to join Beiwai's procession in the parade. That morning my wife and I went to their place to walk with them to Wangfujing to join the others. Both Sol and Pat were in the highest of spirits. Sol put on his favorite hat adorned with a few colored feathers. Sol took his bamboo walking stick and marched with us not far behind the banner of our school. That day he laughed and talked and shouted slogans in his not so perfect Chinese with all the others in the ranks and cracked jokes that were typical of him. He was immersed in the happiness of the whole Chinese people.
During the many years Sol and I were friends, one of the greatest "treats" on my part was to hear him talk about past events. These events, ever since the Chongqing days in the 1940s, have always been interwoven with the cause of the struggles of the Chinese people. He talked about how Kong Xiangxi, Chiang Kai-shek's finance minister and cousin-in-law, invited him to dinner and tried to make him drunk with Maotai in order to coax some secrets out of him, and how he enjoyed Kong's Maotai and yet stayed sober. He talked about his contacts with our Party leaders, Mao and Zhou and others.
Many times I suggested that he should sit down and write his memoirs. But his answer was always clear and definite: "No, I will not." He said. "It is true that I remember many things of the past, and many of them are not known to others. However, when one reminisces about the past, particularly about things that are closely connected with the cause of the Chinese revolution and some of its important leaders, one cannot but pass judgment; for reminiscences themselves would be a kind of judgment. Yet, it is for the Chinese people and later historians to pass judgments on so great a cause of the Chinese people, not an insignificant person and foreigner like me."
Now that Sol has not been with us for 15 years, I can only say with great regret that many valuable historical records of the cause of the Chinese revolution are forever buried with Sol, not at all an insignificant person and foreigner, but a great revolutionary and a true friend of the Chinese people.
Dear Sol, we shall always remember you.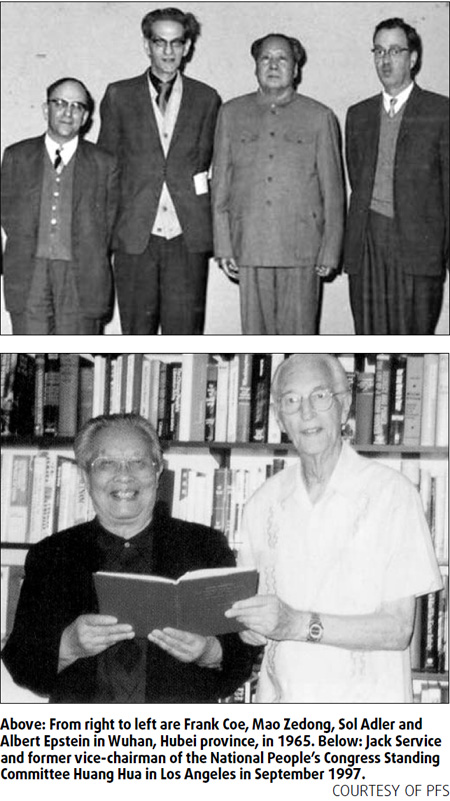 (China Daily 09/05/2009 page4)