Outrage over 'terrorist Mary'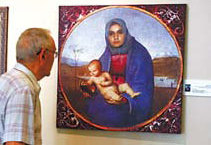 An Israeli group has canceled an exhibition of pictures that superimposed the faces of female Palestinian suicide bombers on Madonna-and-child paintings after the images sparked a public furor.
Yossi Bar-Mocha, the head of the National Federation of Israeli Journalists, said yesterday that his group removed the pictures from its headquarters in Tel Aviv because some people who lost relatives in militant attacks expressed offense.
Artists Lilia Chak and Galina Bleikh said their intention was not to glorify or justify the bombers' actions. Bleikh said she came up with the idea because she couldn't understand how women, whose role is to give life, could become murderers.
(China Daily 09/04/2009 page10)