LONDON: A patchwork of unilateral actions by a few European Union nations to prevent suspected tax fraud in carbon permit trading could serve only to push the activity into neighboring states.
A Reuters investigation into suspected carousel tax fraud exposed a mixture of tax loopholes, lack of regulatory oversight and easy market access that could open the EU's $90 billion emissions trading scheme to abuse.
Investment banks and brokers said they are worried they may have to foot unpaid tax bills left after any fraud or face legal action for having traded unknowingly with anyone charged.
"It's put the innocent intermediaries in a very awkward position of responsibility and liability, which isn't fair," said David Bates, a director at emissions broker CarbonDesk.
Last month, HM Revenue and Customs (HMRC) raided 27 properties around London following a 7-month investigation into a suspected 38 million pounds ($62 million) tax fraud.
Nine people were arrested, but all have since been released without charge.
Through carousel fraud, also called missing trader fraud, fraudsters import goods including mobile phones or computer chips free from value-added tax (VAT) from other EU countries, then sell the goods to domestic buyers, charging them VAT. The sellers then disappear without paying the tax to the government.
Carbon permits
Fraudsters are alleged to have targeted spot trade in carbon permits, an unregulated market worth tens of billions of dollars, because of its tax treatment in the EU and lack of oversight by financial watchdogs.
"Carbon permits are a tax on emissions, and applying VAT to them is effectively putting a tax on a tax, which is kind of ludicrous," said James Emanuel, a director at broker CantorCO2e.
France exempted carbon permits from VAT in June following concerns over record spot trading volumes on emissions exchange BlueNext, a joint venture between NYSE Euronext and state-owned Caisse des Depots. BlueNext said there was no evidence fraudulent activity ever occurred on its exchange.
In July, Britain and the Netherlands followed France's lead, altering their tax treatment of carbon permits.
"The EU made the wrong decision in applying VAT to carbon, but made the right decision in not regulating spot trading," Emanuel said.
The European Commission said it had been informed by member states of the suspected scam and may trial reversing VAT charges, meaning the buyer, not the seller, is liable to pay it.
The UK's Financial Services Authority (FSA) regulates trading in derivatives such as carbon futures but not spot permit trading, instead classing them as normal goods.
Opening an account at a national emissions registry to trade spot carbon is also a simple task, showing the ease with which anyone can access the market.
"If you are an individual, the registry asks for two proofs of address as if you were opening a video store account," said climate campaigner Bryony Worthington.
Market access
Once the registry account is open, accessing the market is not much more difficult.
Carbon traders throughout Europe told Reuters they received an unusually high number of phone calls from individuals or companies looking to trade spot permits earlier this year.
"I did receive quite a few calls from obscure brokers looking to shift spot credits," said a trader at a UK utility.
Some larger brokers trade for smaller, unregulated brokers not governed by the FSA's strict know-your-client guidelines.
"Some deals we would exchange-settle over BlueNext through a regulated broker who is a member, (but) some brokers wouldn't deal with us until we were FSA-regulated," Bates said.
CarbonDesk gained FSA regulation on Aug 12, but weeks before that Bates hired a consultant to examine CarbonDesk's clients.
The findings prompted CarbonDesk to stop trading for 15 UK clients, accounting for volumes of around 4 million tons a month, who did not satisfy their tightened compliance rules.
Move abroad
Some say the UK's VAT exemption will shield the British market from any scam, but would not prevent potential fraudsters from moving on to other countries such as Spain and Germany, where large amounts of carbon permits are traded.
The EU Commission would not comment on specific countries at risk.
"Since France and the UK took out VAT we have received many calls from interested new clients (but) we are not accepting any until the Spanish government makes a decision," Spanish emissions exchange SENDECO2's spokesman Martim Goncalves said.
German utilities E.ON and RWE said they adhere to strict rules for trading energy and safeguards to ensure that deals are only done with long-known counterparties.
A German environment ministry spokesman said he had no knowledge of any VAT fraud cases in Germany.
"I cannot imagine our companies being so silly as to fall for the methods of fraud that have been published," he said.
Reuters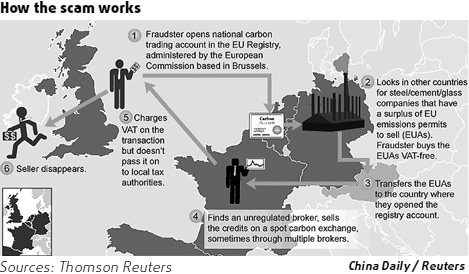 (China Daily 09/03/2009 page16)