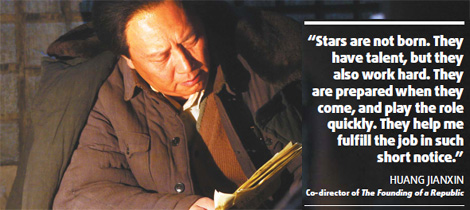 Chinese actor Tang Guoqiang plays Mao Zedong in The Founding of a Republic. File photos
Tom Hanks spearheads the all-star cast playing Abraham Lincoln while John Travolta acts as Jefferson Hamilton Davis. George Clooney is Robert E. Lee and Brad Pitt plays his rival Ulysses S. Grant.
Steven Spielberg and George Lucas play supporting roles, with only three or five takes. Clint Eastwood fights shows up for two minutes, but his scene is removed because there are too many stars.
Sounds unbelievable?
Not in China.
On Sept 17, a 130-minute film featuring more than 80 major stars will hit cinemas celebrating the 60th anniversary of the founding of the People's Republic of China.
The Founding of a Republic (Jianguo Daye) has a cast made up of a who's who list in Chinese filmdom.
Jackie Chan tried hard to play a minor role and Jet Li had only one line. Zhang Ziyi had her hair tied into a bun and wore a simple gray outfit.
Director Feng Xiaogang played a gang lord, while Stephen Chow called the director twice for a role but missed the cut.
John Woo's scene was also snipped from the final version.
Last winter, when Han Sanping, chairman of the powerful China Film Group, and senior director Huang Jianxin decided to make a film to celebrate the 60th anniversary, the producers did not expect to attract such a stellar cast.
Han and Huang invited some actors and started shooting in February once the script was ready, casting for the rest of the roles at the same time.
They only had eight months to screen the film before the Oct 1 anniversary deadline.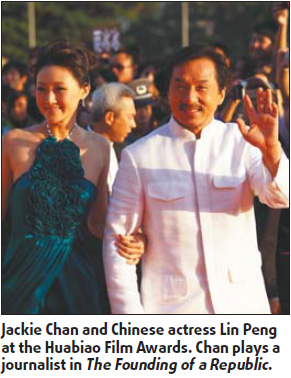 To their surprise, they were soon flooded by calls from numerous stars and their agents. Everybody wanted in and some begged to be on screen for just one minute. And all these A-listers offered their services for free.
The film's budget was only 30 million yuan ($4.4 million), which in some cases, wouldn't cover the costs for even one big star. For example, Jackie Chan's usual paycheck can hit 100 million yuan.
"If we sit down and add up all their salaries, the film should have cost 400 million yuan," says Huang, who has 25 years of experience directing and producing films.
The film's subject of celebrating the mother country's birthday did pull many stars, Huang notes, but the "power of China Film Group and personal charm of Han" played a critical role.
Backed up by the Chinese government, China Film Group is the No. 1 film company in the country, producing films and distributing them in a number of cinema chains across the nation.
It also controls the importation of 20 foreign films every year and schedules their screening dates.
Han, who heads the group, is inarguably the top tycoon in the industry.
Stephen Chow once joked that "if Mr Han asks me to jump off a cliff, I would do it".
"They are all good actors," says Huang, who for the past 100 days has lived in his studio during the busy post-production schedule.
"Stars are not born. They have talent, but they also work hard. They are prepared when they come, and play the role quickly. They helped me fulfill the job at such short notice."
The film focuses on the time between 1945 and 1949, when the Communists, led by Mao Zedong and Chiang Kai-shek's Nationalists fought after the failed effort to set up a democratic coalition government.
Also, it gives a detailed depiction of how in 1948 the Communists organized the first meeting of the Chinese People's Political Consultative Conference (CPPCC), which today still serves as an important political advisory body.
Renowned director/actor Jiang Wen plays Mao Renfeng, leader of Chiang's secret service.
The first day Jiang arrived on set, Huang pointed out that his salute was different from the other actors playing the Nationalist officers.
Jiang refuted immediately: "No, most Nationalist officers studied in British or American military schools, but Mao went to a Japanese one. So his salute is a bit different."
Jiang also included other detailed body language for the role, such as bending over in a way Japanese officers did.
Many actors have only one take, but some prepared six or seven styles of performance when they came to the set, says Huang.
However, there was trouble working with so many stars.
Huang had no specific shooting plan at all and the schedule could change any time according to that of the busy stars.
Having produced many successful blockbusters such as Mummy III and The Warlords (Tou Ming Zhuang), Huang's coordination skills and planning experience helped a lot.
Even so, the veteran producer says making such a film is very challenging.
A big-name actor might only have two hours and the set had to be reserved until the star was free again. Huang remembers returning to one set nine times.
Many worry that too many famous faces may distract from the story, but Huang disagrees.
"If the stars can attract viewers, especially the young people, to cinemas, it is a victory itself," he says.
"It is like reading a book. At first, you may be attracted by the book's design but once you've finished reading, you learn something."
Moreover, he is confident of the power of the epic tale, which includes many little-known historical accounts.
For example, the Nationalists plant an undercover agent in Yan'an, Shaanxi province among Mao Zedong's entourage and bomb Mao's house with his information.
Mao takes some sleeping pills the previous night, so when soldiers come to save him he is still in a sleep.
They have to put him on a stretcher, on which the awakened Mao is shouting: "I am not leaving! I am a lucky guy! He cannot bomb me!"
Huang says as China becomes more and more open, many more confidential stories can now be told.
To make a "real film instead of a propaganda flick", Huang also tries to present genuine characters with a rich personality.
"The war will only be a background, while the characters' feeling in certain historic moments is my focus," he says.
When the film depicts Mao Zedong on the plane to Chongqing to negotiate with Chiang in 1945, it presents a nervous Mao.
"In previous films Mao must be calm on the plane, as if everything is in his control, but it is not the truth. He was feeling tension, because the future was unknown," he says.
In the film, Mao also is shown laughing like a child and drunken, when he learns he has won a war.
His daughter looks at him, as if she cannot recognize that is her father.
The refreshing portrayal also applies to the Nationalists, often depicted as arrogant and corrupt bureaucrats in previous mainland films.
Chiang slumps down on the ground when his officer tells him he had lost the war to Mao's troops, and sits still for a long while.
His son runs toward him and cries: "Father, the ground is cold." At that moment he looks just like a sad old man.
"They are people, sometimes happy, some times nervous," Huang says.
"Today you can no longer portray historical figures flat. If you go to the former office of Chiang in Nanjing, you will find hundreds of books about him sold there, including his diaries.
"It is impossible to make a propaganda film to win your viewers today."
(China Daily 09/02/2009 page18)