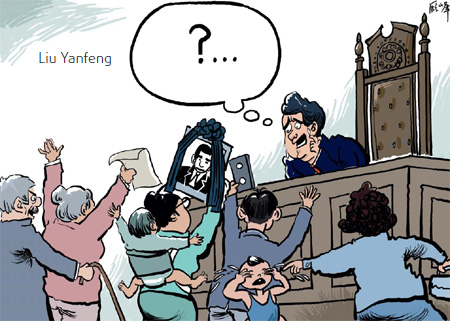 The battle over former cross-talker Hou Yaowen's fortune is the talk of the town and illustrates the fact that not enough people make a will before they die.
It has been more than two years since Hou, son of cross-talk master Hou Baolin, died of heart failure at the age of 59.
"This case is full of changes and hard to predict," says Zhang Xi'an, vice professor in civil and commercial law at Northwest University of Politics and Law.
"The difficulty lies in providing proof of property, such as the collections of watches and paintings, so it will take a long time to compile an accurate list of Hou's assets.
"If Hou Yaowen had bothered to make a will, things would be totally different," Zhang says.
Hou's case is not an isolated one. In China, death is taboo and often people think making a will could presage their death.
"When people are healthy and get along well with their family members, they are reluctant to talk about wills," says Chen Hong, vice chief judge of Shuangqiao Court in Chaoyang district, Beijing.
A person's dying words are often accepted as their final wish. Former chairman Mao Zedong, for instance, died intestate, merely telling successor Hua Guofeng on his deathbed: "With you in charge, I'm at ease."
"In China, the number of people making wills is way too small," says Song Jian, a lawyer with Sinosource Law Firm in Beijing. "One reason is the lack of knowledge of the law in terms of succession."
This is not the case in the West, Song says.
Bill Gates, for instance, made his will in 2003, pledging to leave his fortune to charity rather than give it to his children. Rupert Murdoch, the media mogul, said in an interview in 2006, that he has also made his succession plans.
Changes are taking place in China though. Song Jian says that there has been an increase in the number of people making wills.
"In 2008, I made nearly 30 wills for clients, three times more than in 2005," Song says.
"I have found there has been increasing concern about making a will. Most of these people are in their 60s or 70s. They may have heard of family disputes from neighbors or on TV programs and want wills to avoid family disputes. These people always have more than one child."
In Wenzhou, one of the most prosperous cities in Zhejiang province, the number of wills made at public notaries is growing every year. In the first eight months of this year, Eastern China Notary Public Office signed off on 113 wills, up by more than double the same period last year, reported Wenzhou Economic Daily.
This increase is partly due to senior citizens wanting to ensure they are taken care of after giving away their fortune, and fears that divorce will disinherit their children, the paper said.
"Making a will is a precaution and indicates a change in people's attitudes toward death," says Wang Xin, who has a PhD in sociology from Wenzhou University. "Making a will at an earlier age also shows that people want to protect their personal assets at an earlier age."
Wills must be validated, says vice chief judge Chen Hong. "The third chapter of Law of Succession will give you a clear picture."
Valid wills in China can include notarial wills, self-written wills, wills that are witnessed, and sound-recorded wills.
"In the last two types of wills, people always make mistakes in their choice of witnesses," Chen says.
"Witness must not be beneficiaries or relatives of the makers, and must be suitable. And there must be at least two witnesses."
"Self-written wills must be hand written and signed by the will-maker, and specify the date of its making. Electronic documents and seals are both invalid," Chen adds.
According to the Law of Succession, will-makers can revoke or alter a will. But when several wills that have been made conflict with one another in content, the last one shall prevail, Chen says.
"The purpose of wills is to ensure an individual's belongings go to the desired beneficiaries, so I think it is best to make wills that have been negotiated with all the family members."
(China Daily 08/25/2009 page18)