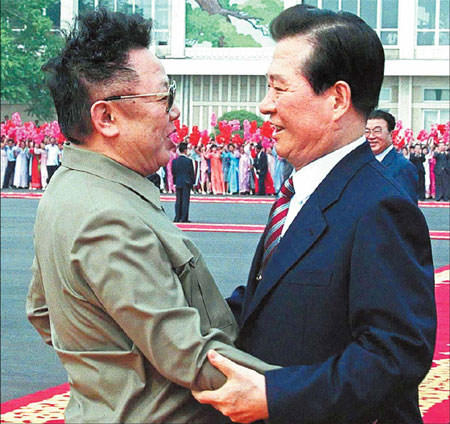 The hug felt around the world: Kim Jong-il is embraced by Kim Dae-jung as the ROK president prepared to depart Pyongyang on June 15, 2000. Reuters
SEOUL: Former president Kim Dae-jung was an extraordinary figure in the Republic of Korea's (ROK) emergence from autocratic rule to a flourishing democracy who won international acclaim for his efforts to improve relations on the divided Korean peninsula.
Once sentenced to death and the target of assassination attempts during the country's early year's under autocratic rule, the man popularly referred to by his initials "DJ" was elected president in December 1997.
Abroad, Kim, who died yesterday at 85, is best known for his historic handshake and embrace of Kim Jong-il in June 2000, at the first summit meeting of the leaders of the two Koreas.
The meeting was the culmination of the "Sunshine Policy" that won Kim the 2000 Nobel Peace Prize - his idea of prodding the DPRK forward with the promise of incentives and reducing the strain of eventual unification through economic integration.
But he was forced to watch his efforts at rapprochement slip away as relations with the DPRK waned sharply under the ROK's current conservative leader.
At home, it was his relentless struggle earlier against Seoul's authoritarian leaders that made his name.
Early years and struggles
Kim was an inspiring speaker in both Korean and English. He shuffled when he walked due to injuries suffered to his legs in an assassination attempt in the 1970s when a truck rammed his car off a road.
He spent his early years on a small island called Hawi with an unwed mother who ran a small shop and tavern serving workers who extracted salt from sea water.
The family later moved to Mokpo, on the southwest part of the mainland, where Kim excelled at school. He did not go to college, and instead worked at a shipping company to support his family.
He was later drawn to politics, winning a seat in the ROK's parliament in 1961. But days later the assembly was dissolved after a coup led by Major-General Park Chung-hee.
As military rule tightened, Kim emerged as a young leader of dissidents in parliament. He challenged Park for the presidency in 1971, and won over 46 percent of the vote in an election widely criticized as rigged in favor of Park.
Kidnap plot
Two years after his run for the presidency, Kim was abducted by ROK secret agents in a Tokyo hotel in 1973.
Chained and blindfolded, he was taken on a boat headed towards the Korean coast. He suspected he was to be dumped in the sea and made to look like he died at the hands of DPRK agents.
The US Central Intelligence Agency and Japanese officials learned of the plot and the US sent a plane to find the boat. With the kidnappers caught in the act, Kim's life was spared and he was taken home and placed under house arrest.
"He felt the Americans intervened to save his life. It was a key event that also deepened his religious faith," said Michael Breen, author of The Koreans.
Sentenced to death
In the following years, Kim emerged as one of the most fervent speakers in favor of democracy and an end to military rule in the ROK.
His political views led him to six years in prison, three years of exile and 10 years under house arrest and surveillance because he refused to cooperate with the nation's military rulers. He also survived several assassination attempts.
In 1980, a military court sentenced him to death for treason. The sentence was later changed to life in prison, then to a 20-year term. In December 1982, the prison term was suspended under a deal that had Kim leave for the US.
Kim returned to the ROK in 1985, with the country under the rule of Chun Doo-hwan, the former military officer whose government sentenced Kim to death. Chun would later be sentenced to death but received a pardon from Kim.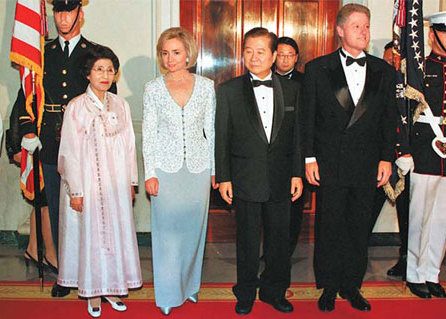 In 1988, US President Bill Clinton and First Lady Hillary Clinton hosted President Kim Dae-jung and his wife Lee Hee-ho at a White House state dinner. Kim was always grateful to the US for acting to save his life after his 1973 kidnapping. Reuters
Runs for president
Kim ran again for president in 1987 and 1992, losing both bids.
After his last loss, Kim announced his retirement from politics and headed to Cambridge to study German unification, saying he wanted to devote his life to unifying the Koreas.
With the country in turmoil due to the Asian economic crisis, his followers asked him to run again. On the fourth attempt, he was elected in December 1997 to a single five-year term.
As president, Kim worked to diminish the power of the family-owned conglomerates, known as chaebol in Korean, that dominate the economy and won praise for working with international financial institutions to steer the ROK through the economic crisis.
He also worked to improve Seoul's chilly ties with Tokyo. He struck a deal with Japan's then-Prime Minister Keizo Obuchi to lift many restrictions on importing Japanese products imposed by Seoul because of bitter memories of Japan's 1910-1945 colonial rule.
He pushed for sweeping reform of four sectors - corporate, finance, labor and public - and to lay the groundwork for the ROK's emerging information technology sector. He also worked to further democratic systems and gender equality.
Yet his administration and his immediate family were also hit by scandal. Kim's government was suspected of sending huge sums of money to the DPRK to secure the summit. Some of his top aides were convicted of making illegal payments, but Kim himself escaped any legal blame.
Two of his sons were jailed in bribery scandals involving 84 billion won ($68.1 million). Kim described the affair in September 2002 as "the biggest misfortune of my life".
Reuters
(China Daily 08/19/2009 page12)