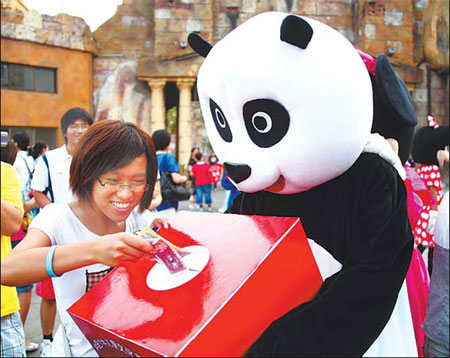 A student donates her pocket money in Beijing on Saturday to aid people in Taiwan hit by Typhoon Morakot. The China Foundation of Culture and Arts for Children and Taiwan's MOMO Channel jointly launched a charity show to raise funds for Taiwan. Xing Guangli
Desperately needed aid arrived in Taiwan yesterday as residents mourned hundreds killed in the deadliest typhoon in half a century.
"My parents, my brothers, my uncles, altogether 40 of my family members were killed," said Liu Jin-fung as he walked unsteadily through the rubble of Shiao Lin village. "How can I plan for the future? Everything is gone from my world."
Shiao Lin was obliterated last weekend when rains spawned by Typhoon Morakot loosened the foundations of two nearby mountains and sent their facades tumbling down onto its 200 or so homes.
As many as 380 people in the village of 600 are feared to have been buried under tons of rubble.
One week after Morakot swept the island, Taiwan authorities are still struggling to reach at least 4,000 people left stranded.
Taiwan leader Ma Ying-jeou, who said on Friday that the death toll was likely to exceed 500, has again apologized for the slow response after families said more people could have been saved if authorities had acted faster.
As plastic sheeting for makeshift housing was delivered from the United States and water purification tablets arrived from Australia, taxi drivers in Taipei also pitched in, driving rice and instant noodles to the island's hard-hit rural south.
Resettlement of an estimated 7,000 people whose homes were destroyed may now speed up after a batch of prefabricated houses arrived from Britain yesterday, the island's relief center said.
The first shipment of relief materials from the mainland will leave for Taiwan from Shenzhen, Guangdong province, today, said the Taiwan Affairs Office of the State Council.
The 150 shipping containers of supplies will include urgent portable shelters. The mainland has also donated more than 120 million yuan ($17.5 million) for relief work.
The Straits Exchange Foundation on Saturday said the island is in urgent need of more materials. In a letter to the mainland-based Association for Relations Across the Taiwan Straits, the foundation said it wanted sterilizing machines, blankets and sleeping bags from the mainland.
Morakot dumped more than 2 m of rain on Taiwan and stranded thousands in villages in the mountainous south. As of Saturday night, 21,200 villagers had been rescued.
The operation relied mainly on helicopters because bridges collapsed and roads were washed away.
Many anxious family members have waited at the Cishan helicopter landing zone in the south - a main drop-off point for the rescued - in the hope they might find missing family members.
The storm has killed at least 124 people and left 56 missing in Taiwan as of 10 pm on Saturday, according to local disaster response authorities.
Meanwhile on the mainland, Morakot left at least six people dead and three missing.
In addition, more than 14.3 million people have suffered as a result of powerful typhoon-triggered winds and rainfall. So far, more than 16,000 houses have been toppled and authorities have relocated more than 1.6 million people.
Xinhua and agencies contributed to the story
(China Daily 08/17/2009 page3)