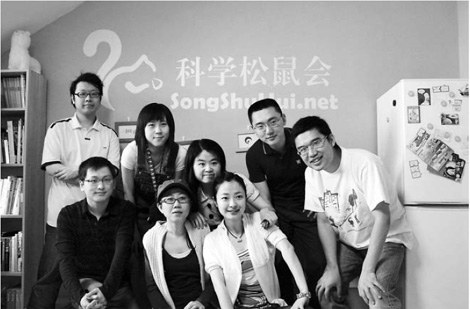 A gathering of the "scientific squirrels", mostly science reporters, researchers and students.
Ever wondered why the wires of your earphone always get twisted when you put them in your pocket?
Just log on to songshuhui.net for the answer.
The science blog started last April also deals with more complex subjects such as China's space exploration project, says Ji Xiaohua, 32, better known as science writer Ji Shisan.
Science is like a delicious fruit, with a tough outer cover, says Ji. The popular writer says he is determined to be the squirrel that cracks this nut of scientific understanding, enabling more people to appreciate its beauty.
Over the past year, Ji has helped built an army of so-called "scientific squirrels" of more than 80 like-minded, mostly science reporters, researchers, and students.
They translate popular foreign science essays, organize screenings of science documentaries, invite scientists, researchers and science fiction writers to public talks, and arrange tours of research facilities, usually closed to the public.
Recognizing that science needs to be demystified, they make generous use of wit and humor while explaining their chosen topics. Every day, the website sees more than 50,000 hits.
Its off-line activities are always over-subscribed. When Science Squirrel organized a group study of the July 22 total solar eclipse in Shanghai, it was fully booked within three hours of the announcement.
Even the heavy rains failed to dim the enthusiasm of the lucky few who joined. Xiao Wu, 20, and her mother traveled 16 hours from southeast China's Fujian province to Shanghai, where she met some of her favorite writers, whose easy-to-read essays had helped the sophomore with her schoolwork.
"They're so informative," says Wu, who takes a keen interest in astronomy, geography and environmental studies, besides her major, biology.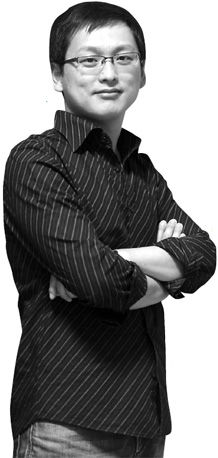 Ji Xiaohua, science writer and founder of songshuhui.net.
In just over a year, the popular blog has collected a raft of awards, including being voted "Best Chinese Blog" by German state broadcaster Deutsche Welle in 2008, and ranked alongside China's first spacewalk in the "2008 Top 10 Events of Science Popularization in China", by the China Association of Science and Technology.
Ji's dream is to make science so popular that it engages ordinary people in restaurants, cafes and bars, and at home.
Although traditionally the Chinese have always had a high regard for science, people are not curious about everyday phenomena, he says.
"The public has shut science out of their lives. Many show more interest in astrology and blood type analysis," he adds.
He cites the example of a human resource manager at a major Chinese website who consulted its astrology section when recruiting people.
It's a far cry from the days after the founding of the People's Republic of China in 1949, when scientists were held in high esteem. Many scientists were sent to rural areas to teach farmers about pest control and increasing crop yield during the "Great Leap Forward" from 1958 to 1961.
However, during the "cultural revolution" (1966-76), scientists were persecuted and more than 100 science magazines were shut down.
Interest in science saw another resurgence from 1979 to 1988, when more than 20,000 books on popular science were published, along with about 250 magazines and 1,000 films.
The science-fiction novel Little Smart Traveling to the Future by Ye Yonglie was published in 1978, and has since sold 3 million copies.
Over the past two decades, the country has been stressing the importance of science and technology for the continued growth of the economy.
The budget for R&D has seen an annual average increase of 21 percent for the past 10 years. The allocation for 2009 is $25.7 billion, a hefty 25.6 percent increase over 2008, according to Du Zhanyuan, vice-minister of the Ministry of Science and Technology.
This has yielded impressive results in some key areas over the past two decades, including the successful spacewalk last November.
However, popular science has been ignored. Many magazines dedicated to popular science failed to meet the bottom line in a market-driven economy. There have been few sci-fi films coming out of China and hardly any involvement in science, outside of government-driven initiatives.
Ji and other science writers such as Fang Zhouzi are particularly outraged that superstitions are making a comeback.
Fang has also been waging a war against fraud in scientific research and against fake science on his website, New Threads. He says the 1980s fervor over "extra-sensory perception" and the current "fengshui craze" have wasted resources and hindered the country's development.
With a doctorate in neurobiology, Ji says when he first started writing popular science essays while on campus, he wasn't thinking of exciting an interest in science among more Chinese.
"Personally I am not so much into lab research," says Ji, who instead finds more pleasure in sharing his knowledge from books such as The Selfish Gene by British ethnologist Richard Dawkins.
Since he always dreamed of writing interesting science stories, that is what he did in the autumn of 2004 when he was a PhD student at Shanghai's Fudan University.
Acting on an impulse, he adapted one of his essays on neurobiology, signing it as "Ji Shisan", and sent it to magazine editors. He got no response even after two months and was about to give up when the editor from Newton-Science World, a monthly magazine, wrote back, publishing not just that article but also others.
Since then, stories signed "Ji Shisan" have appeared in various science magazines, such as Newton-Science World, New Discovery and Sanlian Life Week. His distinctively humorous style is popular among people, who may otherwise feel intimidated reading about science.
As demand for his articles from newspapers and magazines began to grow, Ji reached out to classmates and scientists, persuading them to write popular science stories.
Payment for these articles is what has helped him keep Scientific Squirrels going over the past year. By the end of last year, they published When Colorful Sound Tastes Sweet, a collection of their most popular articles.
In April, Squirrels Group was set up as a company to use the resources they have to make money to support their non-profit work.
Scientific Squirrels has also won the praise of Jia Hepeng, a seasoned science journalist, for bringing together those capable of writing interesting popular science stories and those interested in publishing them.
Traditionally, the Chinese public has looked down on popular science writers, says Jia.
"When scientists or researchers write popular science articles, people think they are incapable of real scientific work."
Scientific Squirrels hopes to change this, says Jia.
Yang Lina and Wang Ke from China Features contributed to this story
(China Daily 08/12/2009 page20)