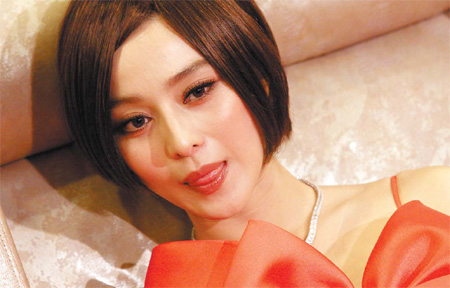 Making it big in showbiz when she was just 16, Fan Bingbing is now determined to master the English language. Jiang Dong
Many marvel at Fan Bingbing's beauty. Painter Chen Danqing saw her on a flight and described her look as similar to the work of ancient calligrapher Wang Xizhi - who is famed for his refined and delicate style.
While good looks are an obvious advantage for an actress, they can also be a burden. As such, Fan has tried to prove she is more than just a pretty face, by playing a plain massage parlor girl without any makeup in Lost in Beijing (Pingguo), and wearing thick glasses and a bucktooth for Desires of the Heart (Taohua Yun).
Even so, she is still referred to as "the prettiest Chinese actress", while few note that she is also one of the hardest working and prolific.
The 28-year-old has done more than 25 films and 40 TV series; and also runs a TV drama studio and performance school. In 2009, she starred in seven movies.
In Sophie's Revenge (Feichang Wanmei), which premieres on Friday, she plays a film star who robs Zhang Ziyi of her boyfriend. In Wheat (Mai Tian), a costume epic set 2,000 years ago, she is a city's ruler. Her first English film, Stretch, in which she is a powerful woman who manipulates a horse race, wrapped up earlier this year.
"When I choose a role, I prefer something I really never tried before," she says.
Sophie's Revenge is her first comedy, as it is Zhang's, who is the film's lead and producer. "Ziyi came to me and said very sincerely, 'Bingbing, I've never done a comedy, neither have you, why not try one together?'" she recalls.
Noted makeup man Tang Yi revealed that the two secretly competed against each in terms of makeup and costumes, but Fan described their relationship as understanding and appreciative.
"We are both boyish and brave girls, who have achieved our positions by our own efforts, so we feel connected," Fan says. "And I have been a producer, so I know how hard she works. I appreciate her diligence a lot."
On one occasion, Fan had a fever and wanted to cancel a scene at 2 am. But she was told the rent for the set had been paid, so it would be a big waste if she could not act.
She went to the set and found flowers and a pot of soup. On a card Zhang apologized and thanked her for working.
"I worked until 6 the next morning," Fan says, laughing. "Ziyi is a good producer. She cares about actors. To me, a little care is more important than material rewards."
In Wheat, which will open this September, she plays a young widow confronting war, lies and the sudden mission of governing a city.
Director He Ping required her to give up her old acting style. For the first scene, she had to do 25 takes.
"She is a brave girl who shoulders her responsibilities bravely, I think I can relate to her," she says.
She calls learning English "torture", because she was not traditionally schooled in the language, as she became a professional actress at 16.
For her role in Stretch, she had to recite the lines of 60 scenes in 15 days, which involved staying up all night.
When she arrived in Macao for the first scene, the director found she was able to recite all her lines perfectly.
She attributes her strong will and early entry to the industry to her mother, who encouraged but never spoiled her.
Fan's mother used to run a clothes shop in Yantai, Shandong province, and worked hard to pay for Fan's piano, flute and singing training.
"She treated me as if I were a boy, so even if I was bullied, I would still go home with a smile."
When she was young, Fan often led a gang of girls that argued with the boys who bullied them.
As a young girl Fan liked watching TV. She would stick chopsticks in her hair to copy some actress' hairstyle and act in front of the television.
"Being an actor means you can be a nurse today and a policeman tomorrow, that seems so fun to me," she says.
She left home for an acting school in Shanghai when she was 15. One year later she quit the school and left for Beijing, where she got a role in a TV series.
The city seemed full of opportunities, but for two years she was an obscure actress shuffling between a rented house and different sets. Her parents lived with her, supporting their daughter's dream with all their savings and care.
The turning point for Fan came in 1999, when she played a maid in the smash TV drama Princess Huanzhu (Huanzhu Gege) and she soon became a household name.
But she did not join the A-listers until she had played a shrewd mistress in Feng Xiaogang's film Cell Phone (Shouji), the box-office champion of 2003.
For this role she was named the Best Actress in the Full Blossom Film Festival, one of the mainland's top film awards.
But the side effect was getting typecast.
She was also the target of gossip columns that implied she enchanted men to get film roles, and she was accused of having plastic surgery.
In response, she was examined by a team of surgeons and notaries in 2006, who confirmed she had never gone under the knife.
"I would do that again today," she says agitatedly.
"You think I am not good at acting, ok, this is something subjective, but you blame me for something I never did, I must prove you are lying."
For the same reason she sued a hospital after it illegally used her name in online ads for plastic surgery. The case lasted two years and she finally won.
The rumors did not stop, however, and even today colleagues and friends inquire where she had surgery.
"I am tired of explaining now," she says. "My bottom line now is family and morality. Beyond that I am like chewing gum, very elastic. I choose to believe the audience will grow up with me."
She also has other business to take care of. Her studio produces a TV series each year. Her new hobby is English. She has hired a teacher who accompanies her everywhere, not necessarily in preparation for Hollywood roles, but for frequent cultural exchanges.
She also dreams of designing costumes, opening a spa and a cinema, where she can enjoy films and invite friends for a good time.
"I am so young, and love has not come ... why not try something new and fun?" she says. "Even if love comes, I believe really able women can balance a career and relationship well."

(China Daily 08/11/2009 page19)