Hyundai boss to negotiate for employee in DPRK
SEOUL: The chief of conglomerate Hyundai Group traveled yesterday to Pyongyang seeking the freedom of an employee. The 44-year-old technician from the Republic of Korea (ROK), who has only been identified by his family name, Yu, was detained four months ago for allegedly denouncing the DPRK's political system. He worked in a joint industrial park where ROK-run factories employ DPRK workers, and Seoul officials have not been allowed access to the man.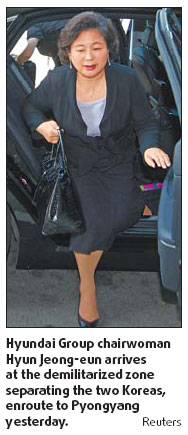 The Republic of Korea's (ROK) Hyundai has poured hundreds of millions of dollars into joint projects in the DPRK, including tours to a famed mountain resort and ancient sights in Kaesong city, and the industrial park But Pyongyang halted the tours last year amid tensions with the ROK. The factory park remained open with a skeleton ROK staff.
The DPRK was also still holding four ROK fishermen and their boat seized last month after the vessel strayed into northern waters.

Today's Top News
Editor's picks
Most Viewed