Beijing gold medalists: Where are they now?
Guo Jingjing, women's singles 3m springboard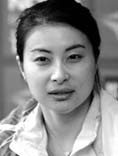 Guo Jingjing consolidated her status as the most successful woman in the sport's history by taking her fifth consecutive 3m springboard title for both singles and synchronized at the World Swimming Championships in Rome. Besides diving, her romance with Hong Kong tycoon Kenneth Fok and bust-ups with the media have kept her in the headlines.
Chen Yibing, men's gymnastics team and men's rings
Reporters caught him wining and dining He Wenna, the women's trampoline winner in Beijing, earlier this year. However, both of them have denied a relationship. The 25-year-old is now focusing on winning the men's rings'title for Tianjin at the National Games.
He Kexin, women's gymnastics team and women's uneven bars
The 17-year-old is now transforming into an all-round performer, after being an uneven bars specialist.
He Wenna, women's trampoline
The beauty was named "ambassador" for the 2009 China Sports Lottery and appeared in many commercials after the Beijing Games.
Ma Lin, Wang Hao and Wang Liqin, men's table tennis team
All of them are sticking to the sport. At the age of 31, Wang Liqin said he still has a passion for the sport, while Ma is still in good form, and Wang Hao is looking forward to turning his two silver medals in men's singles to gold at the London Olympics.
Li Xiaopeng, mens' parallel bars and men's gymnastics team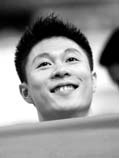 Li Xiaopeng will not appear at the National Games in October as his Hunnan team failed in the qualifiers. The 28-year-old hasn't announced his retirement, though he stopped training after the Beijing Games. He has fallen in love with Chinese-American Li Anqi, the daughter of Li Xiaoping, a former Chinese national gymnast and the 1981 pommel world champion, who moved to the United States in the 1980s.
Lu Chunlong, men's trampoline
Lu, together with other national teammates, gave an exhibition performance in Taiwan recently.
He Chong, men's singles 3m springboard
A winner at the Olympic Games, World Cup and World Championships, He Chong said he has more gas in the tank and wants to keep collecting silverware and gold medals.
Yin Jian, women's windsurfing RS: X Class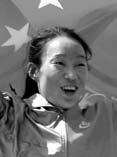 The 31-year-old married immediately after the Beijing Games. Yin sold her winning outfit and donated all the money to Sichuan earthquake victims. The sailor said she would end her career at the National Games and then dedicate herself to family life.
(China Daily 08/07/2009 page20)