ROME: French striker David Trezeguet has ended speculation he could leave Juventus by stating his intention to stay with the club this season.
"I've decided that I'm staying. It's 100 percent certain," Trezeguet told Gazzetta dello Sport on Tuesday.
"What has made my mind up is the fact the club, and my teammates, have convinced me that I can still make a big contribution to this team."
Trezeguet has spent nine, mostly successful, seasons in the northern Italian city - he is the record foreign goalscorer for them with 161 goals - however last season the former France striker endured one of his most difficult spells at the club.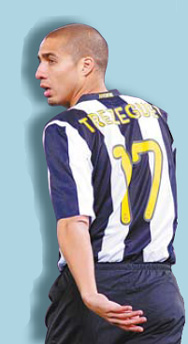 Early last season Trezeguet was sidelined after undergoing operations on both knees and he then fell out of favour with then coach Claudio Ranieri.
He played only eight Serie A matches, only two of those as a starter, and scored just one goal.
Speculation that the man known as 'Trezegol' wanted to leave the club eventually reached the ears of AC Milan, who expressed an interest in signing the 31-year-old last week.
However Juventus sporting director Alessio Secco ruled out any such move, claiming that if they sold Trezeguet they would only do so to a foreign club.
"At the end of last season he brought up the possibility of finding a new club ... (but) we'd never give him to another Italian club," Secco said.
"He's a good player and we want to keep him but if his agent comes to us with an offer from abroad, we'll look at it."
On Tuesday, Trezeguet appeared to commit for at least one more season to the 'Old Lady' of Turin.
"After nine seasons with Juventus I've got nothing to prove, I just want to win trophies with the club," he added.
Champions League winners in 1996 and Italian champions the last time in 2003, the last trophy Juventus won was the 2007 Serie B title, a year after their demotion to Italy's second tier over their role in a match-fixing scandal.
AFP
(China Daily 08/06/2009 page22)