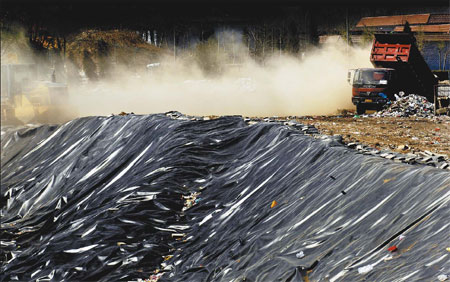 A landfill site near Liulitun, in west Beijing, one of the 23 waste treatment plants in the capital. Liu Ju
Beijing is heading for garbage overload. Its 23 existing waste treatment plants are already working above capacity and trash piles are expanding by 8 percent every year.
The municipal government announced last week it would add another 17 plants by 2015, but experts have warned it could be too late as the capital will run out of landfill space within just four years.
Official figures showed the city handled 6.72 million tons of domestic refuse last year, with 90 percent buried. But by 2012, local authorities estimate it will be 9.14 million tons.
All 13 major landfill sites are already overloaded, leading to fears of wastewater or toxic gas leaks, and are expanding by about 33 hectares a year. A further 1,000 small dumps are also scattered across the city.
Nor is the capital an isolated case. A report by the Ministry of Housing and Urban-Rural Development last year stated more than a third of Chinese cities are facing a crisis.
The annual urban waste per capita is now 220 kg, with 7 billion tons already on disposal sites covering 150,000 hectares across 665 cities.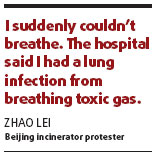 The largest landfill site in Guangzhou, capital of Guangdong province, now handles more than three times its designed capacity. In Shanghai, another major metropolis, the amount of garbage generated in 2007 could have been piled five times higher than the city's Jinmao Tower, the third tallest building in the world.
"Beijing is facing a grave challenge in treating its garbage," stated a report delivered by Beijing's Deputy Mayor Huang Wei to the standing committee of the Beijing People's Congress at the weekend. "With rapid urbanization, industrialization and modernization, the city's urgent task is to enhance full-scale garbage treatment and recycling work."
In the face of a national crisis, incineration plants are being touted as the only solution to a growing problem. But it is a solution that has divided opinions among environmental experts, citizens and officials.
"All Beijing's landfills are jammed and causing pollution problems," said Chen Yong, director of Beijing Municipal Management Administration. "Before they fill up, we must find a solution. We need to adopt waste incineration as soon as possible."
Professor Nie Yongfeng, 64, of the college of environmental sciences and engineering at Tsinghua University in Beijing, agreed. He has been researching the treatment of urban solid waste for 20 years and strongly advocates the adoption of incineration.
"Incineration can significantly reduce the volume of the original waste up to 96 percent. It is the only practical way at present to curb the crisis," he said. "Incineration technology has become mature and safe, and has been adopted in many developed countries for more than four decades. The incinerator plant is an ideal waste-to-energy facility that generate renewable electricity or heat."
China lags far behind the likes of Japan and the United States, where 90 percent and 30 percent respectively of all garbage is burned.
There are now 50 waste-fueled plants dotted across China but in Shanghai, the city with the nation's largest combustion facility, Jiangqiao, which handles around 1,500 tons of trash a day, just 15 percent of waste is burned. In Shenzhen, Guangdong province, where the first incinerator was opened in 1988, it is 40 percent.
Beijing has a dire shortage of incineration facilities, with more than 90 percent of its trash heading to landfill sites.
Bio-treatment, where refuse is transformed into fertilizer, is another method officials in the capital are keen to explore and, according to the report delivered at the weekend, the extra facilities will see the proportion of incineration, bio-treatment and landfill reach 2:3:5 in 2012 and 4:3:3 in 2015.
The use of incineration technology, however, is by no means a perfect tonic to the nation's ills.
On April 11, hundreds of Shanghai residents marched in protest over a possible expansion of the Jiangqiao plant, while in Beijing plans to build five waste-fueled plants proposed in 2003 were all suspended following demonstrations by people living close to the proposed construction sites.
The capital's only working incinerator, which cost 750 million yuan ($110 million) and opened on the Gaoantun plant in Chaoyang district last July, has also come under close public scrutiny.
The Gaoantun landfill facility was built in 2002 and designed to handle 1,000 tons of garbage a day. By 2008, it was receiving around 4,000 tons of household waste a day, almost a quarter of the total daily trash generated in Beijing.
It uses a plastic anti-leakage method and is fitted with pipes to extract emissions, but the overloaded pit generated so much methane that inspections found 40 percent was escaping into the air. The resulting stink could be smelled more than 10 km away, affecting almost 200,000 residents.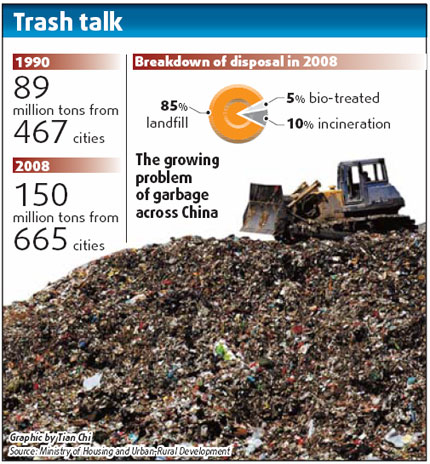 The problem was further compounded by the incinerator, which has a 50-m-tall stack. Locals said the odor hit its peak during the Olympic Games last summer, when the plant was accepting an average of 4,700 tons a day.
"I had to wear a mask to watch the Games on television at home," said Zhao Lei, 35, who lives in Changying, just 3.5 km from the 40-hectare site. "When I was watching the closing ceremony, I suddenly couldn't breathe and was sent to hospital where they said I had a lung infection from breathing in toxic gas."
Zhao was among an estimated 1,000 protesters who took to the streets last August demanding the plant be cleaned up, forcing an apology from Chaoyang district authorities and a promise the smell would be dealt with.
Many environmentalists share her fears about the use of incineration technology, citing the fact such waste plants often release significant amounts of heavy metals and dioxins.
Doxins are a group of dangerous chemicals known as persistent organic pollutants with highly toxic potential. In 1990, experts from the World Health Organization evaluated the effects of long-term exposure to dioxins and linked it to impairment of the immune system, nervous system and endocrine system, as well as reproductive functions.
Chronic exposure of laboratory animals to dioxins resulted in several types of cancer.
In 2006, the municipal government unveiled plants to invest 800 million yuan in building a waste-fueled plant on the Liulitun landfill site in Beijing's western Haidian district in time for the Olympic Games, but it was put on hold the following year after a protest outside the gates of the Ministry of Environmental Protection.
Built in 1999, Liulitun was accused of using an improper disposal method and being poorly managed, leading to pollution. Meanwhile, studies showed that, between 2000 and 2006, a nearby apartment block with around 1,000 residents had 70 reported cases of cancer - five times the per capita average - with 46 of them fatal.
Professor Nie dismissed concerns over pollution at a public hearing for the Liulitun plans. He said: "As long as garbage is burned at between 360 and 850 centigrade, hazardous emissions, including dioxins, are burnt up within two seconds."
Zhao Zhangyuan, 66, a retired expert formerly with the State Environmental Protection Administration, however, warned governments not to be too hasty in placing their trust in the advancing technology.
"It has only tested safe in your laboratory. How can we ensure its safety in practical management in China?" asked Zhao, who after inspecting all 50 plants across China has become a harsh critic of incineration plants. "Most incinerators in China lack proper management due to cutting cost. The garbage is often not burned completely, so emissions of dioxins are inevitable.
"The half-life of dioxin elimination is 14 to 273 years, so the accumulation effect is ultimately harmful to human beings. Since cancer cases were found to be increased among residents living near incinerators, Japan has closed two-thirds of its incinerators in recent years and many European countries have also banned incineration."
Wang Xiaojun, communications director for Greenpeace China, added: "Incineration will inevitably cause pollution, so we oppose plans for more plants in Beijing. We insist on 'reduce, recycle and reuse'. That is the ultimate way.
"The government should legislate and supervise producers to reduce the usage of potential contaminants and recycle their own products, while citizens should also learn how to reduce the amount of garbage the produce in their daily life."
Zuo Lanping, vice director of the Fengtai district administration commission, oversees the handling of 2,500 tons of household trash produced by 1.7 million people every day. She supports installing incinerators but admits the garbage crisis will not disappear in a puff of smoke.
"Usually, the government builds a landfill and then transfers operations to private contractors. But some firms only want to maximize their profits and lack supervision, leading to a series of problems," she said. "The public has lost patience. The government should handle the situation with transparency and keep educating citizens on environmental protection."
Separating waste at the source is key to solving the crisis, she explained, adding that the current truck-based collection system was ineffective.
"In China, recyclable solid waste such as paper, cans and bottles are picked out by the many mobile garbage pickers, but the rest of the waste could be hazardous without proper treatment," she said. "Kitchen waste, such as food scraps, can't be burned, but most people wrap them up with solid garbage before they throw it out. A system of separating the different kinds of trash while in transit should be developed."
Fengtai district has invested more than 1 billion yuan in a new compound garbage center, including a waste separation factory, incinerator and kitchen waste disposal, she added.
(China Daily 07/28/2009 page7)