Eight years after its inauguration, "China Road" is still the best road in Kenya. After driving over countless bumps, and around potholes, roadblocks around Nairobi, it is a balm to the nerves and salvation to suspensions and tires. The 150-km-long stretch of black asphalt is smooth, its shoulders are wide and lanes divisions well marked. I hardly notice my Land Rover has reached a speed of 140 km an hour.
"Chinese engineers working here were eating snails," laughs Musa Mwandima, a Kenyan employed during the construction of the road that was inaugurated in August 2001. "And one foreman who always talked to me explained that here in Africa we have too many children. He explained to me the one-child policy in China. He said we should not have many children in such a poor country. Otherwise, how could they be fed and educated? At that time I had two kids. I wanted to have eight, but I decided to strike a compromise - after the Chinese left, I settled for only three."
Mwandima's smile is warm. He pauses, lost in memories, remembering much better days when his dusty humble village - Kasarani Voi - came suddenly to life. Heavy equipment were raising dust, powerful lights were penetrating the night, and he felt like being part of a team building a better future for his country.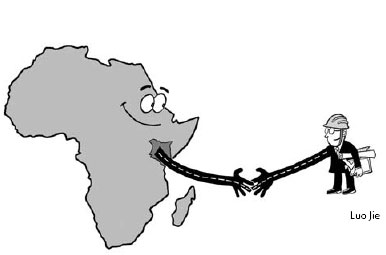 Since then economic crises, drought and tribal violence have devastated Kenya again, but the China Road still cuts through stunning countryside: It's a monument to engineering excellence and goodwill, and a glimmer of hope for the local people.
"There was a language barrier and we couldn't communicate much with the Chinese people," says Mwandima, "but they respected us - there was no racism whatsoever. We were paid more than by local companies and we were always paid on time and with all the extras, such as overtime, that were due."
China Road, also known as the trans-Africa highway, is an important stretch of thoroughfare connecting the coast with Nairobi. This is easily the most important artery in East Africa. Heavy trucks move goods from Mombasa, Kenya's largest port, to the rest of the country and further to Uganda, Rwanda, and Burundi and even to Goma in the eastern part of the Democratic Republic of Congo. As the railroad system continues to deteriorate, Kenya is now more dependent on its road network for transporting goods and people.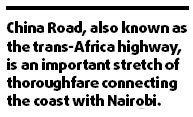 China Road begins at Mtito Andei town near the gate to Ngai National Park. In the other direction, between Mtitio Andei and Nairobi, the road is called the "German Road" because it was built by a German construction company with European Union funds.
From Mtito Andei, China Road cuts through some stunning landscape, including the enormous Tsavo National Park with the Ngulia Rhino Sanctuary and several luxury safari lodges and camps a short driving distance away.
My "guide" to the area, Mghanga Mwandawiro, one of the main leaders of Kenyan opposition and chairman of the Social Democratic Party, explains: "China Road connects the coastal province with the eastern province. This is an extremely good, viable and necessary development project. It has not only improved the main transportation route, but also brought my own village, Werugha, closer to Mombasa and the rest of the country. It has connected hundreds of other villages as well. We are very grateful to the Chinese government. We are also thankful to China for building the first university in Taita district at Mariwenyi."
The Jomo Kenyatta University of Agriculture and Technology with its Taita-Taveta Campus can be seen from the road and the Kasarani Voi village. It blends beautifully with the dramatic landscape, with the Vuria Mountain as its backdrop.
Workers who have gathered on the roadside to talk with Mwandawiro and me do not seem in any hurry to leave. They keep exchanging old stories about their participation in the enormous engineering project that changed their lives.
"What impressed us the most was how hard the Chinese worked", says Mghenyi-Keke. "We worked next to them, but we were also observing them, trying to learn how they kept up such a high working morale. And they were absolutely punctual. When they said 9 o'clock, that's what it had to be. Their equipment were always functioning, and their construction materials always ready."
"I would like to go to China one day," says Mwandima. "People I worked with were very kind and patient with us. When we committed a mistake, they didn't scream at or insult us. They just explained how to improve things Working with the Chinese made me realize that we know so little, almost nothing about their country. And it is one of the biggest countries in the world, isn't it? We know that they produce many things, even the spare parts for our bicycles. But we know almost nothing about how they live. We always try to watch films about China on TV now, but the offering is very limited."
After sunset, Mwandawiro and I drive up and down the Chinese Road, stopping for dinner and a cup of coffee, talking to people. One of the leading Marxists in Africa, Mwandawiro knows personally many world leaders, including Fidel Castro, Bolivian President Evo Moralez, Venezuelan President Hugo Chavez. But he has never visited an Asian country and now wants to know more about China.
I share what I know of China from my visits to Beijing, Shanghai and other Chinese cities. "China should really do more to promote itself, especially its culture," Mwandawiro says.
Late at night he asks me to turn left; to leave the main road and kill the engine.
Our headlights now illuminate a prison gate. Guards rush out, but after recognizing him as "their MP" they salute and leave us to park in front of the gate.
"This is the historic prison of Manyani, the place where during the struggle for independence, British colonial rulers tortured our freedom fighters," Mwandawiro says. "The torture they inflicted here was extreme and brutal. It was one of the first concentration camps on earth. And nobody could escape because the nearest town was 70 km away and all this area was and still is inhabited by wild animals. You wouldn't stay alive for more then a few minutes if you tried to run away.
"I brought you here to make a point: Some countries came to Africa to build prisons and camps, others came to build roads."
The author is US-based novelist, journalist, photographer and filmmaker, he has covered dozens of war zones from Bosnia and Peru to Sri Lanka and East Timor.
(China Daily 07/22/2009 page9)