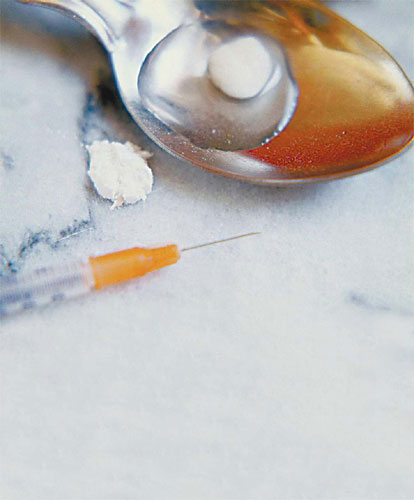 As he took one last drag on his cigarette, Xiaolei stared solemnly at the rain through the window. "I should never have touched it," whispered the
17-year-old. "I wish I could turn back time."
He was sitting in his room at a voluntary drug rehabilitation center in Beijing. After 15 minutes of silence, visibly lost in his thoughts, he suddenly murmured: "There are too many times I think 'I should have done this' and 'I wish I had done that' when I think of the past."
Xiaolei is a drug addict. He looks a lot more mature than most youths of 17, a fact he puts down to the effect of the drugs. "It's unavoidable," he added.
The 2009 International Narcotics Control Strategy Report, released by the United States Department of State in February, stated that 62 percent of drug addicts registered for treatment in China are under the age of 35. The trend among young urban users has been fueled largely by their increasing disposable income, it said.
As China's economy has grown and its society has opened up over the last decade, young people have enjoyed increasing freedom, which has been associated with a rise in drug taking in large and medium-sized cities.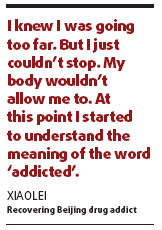 Xiaolei's problems started two years ago, while his parents were in the middle of a vicious divorce battle.
He said that, as his parents were constantly fighting, he hated going home to the tension and so instead would seek solace in his "hideout", an Internet cafe, where he played online games for hours on end.
After a while, he began to skip school to hang out with his "brothers", friends he had made at the cafe. "They made me feel good and important, not like my parents," said Xiaolei in his room in the rehab clinic.
It was his brothers who offered him his first hit. It was methamphetamine, known among drug users as "ice".
"They told me it was something that would take me far away from reality and make me happier than ever," he recalled. "I did hesitate at first, but I eventually gave in. They told me it was not addictive and it was just a one-time thing.
"I trusted them. How stupid I was," he laughed, shaking his head.
It was not a one-time thing. Ice gave Xiaolei the kind of escapism he was looking for and it quickly became a regular after-school activity for him and his friends.
By this time, his wealthy parents were already divorced. He was living in Beijing with his mother, a businesswoman he rarely saw, while his father moved south to Guangzhou, capital of Guangdong province.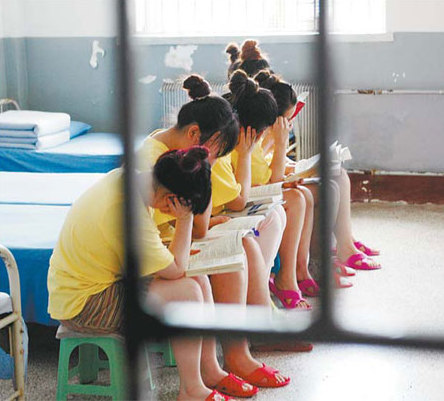 Female drug addicts read at a drug rehabilitation center in Shenyang, capital of Liaoning province, where they are receiving detoxification treatment and therapy to help them stay off drugs. Zhao Jingdong
Whether guilty about the divorce or the effect it had on their son, Xiaolei's parents never once questioned his constant requests for money.
"I would give them excuses like I wanted to treat a friend for their birthday or needed to pay school fees. It meant money was never a problem, and I never knew how easy it is to find a drug dealer when you need one," he said.
But ice began to lose it effect just months later, and it was not long before the teenager had bought his first hit of cocaine.
"I knew I was going too far," he said. "But I just couldn't stop. My body wouldn't allow me to. At this point I started to understand the meaning of the word 'addicted'."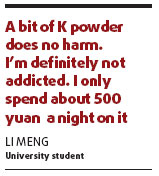 Xiaolei's parents began to suspect he was having problems when he stopped returning home at night. He had also started to ask them to hand over thousands of yuan.
"My mother was suspicious, and she once tried to lock me inside the house. But I always found a way to get out," recalled the recovering addict, who said the drugs caused him to lose lots of weight and made him more and more disoriented.
"One day, they confronted me and I told them everything. They both just burst into tears. But instead of screaming at me, they held me into their arms. I will never forget that moment. As they hugged me, I suddenly felt there was hope.
"I am glad they didn't push me away and send me to a rehabilitation center. I could never have done it on my own."
It has been six months since Xiaolei was admitted into the rehab clinic, where he will receive detoxification treatment and psychotherapy for anothger six months to help make him stay drug-free.
Government-funded voluntary centers were set up across country in trial programs last year and have showed signs of real success among young addicts. Before their introduction, drug users received treatment at compulsory rehabilitation centers where patients are subject to stricter rules and controls.
As more people fall victim to drug addiction in China, more voluntary clinics, some privately run, have opened. Here, addicts only need to pay 50 percent of the fees, while the government foots the rest of the bill.
Many provinces also set up special hotlines, which offer addicts guidance and advice about the available rehab facilities.
"I can't deny I still think about drugs sometimes, but I know I can live without them now. The best cure for me is the support and love of my family," said Xiaolei, who now dreams of the day he can return to school to see his classmates, who face the National Matriculation Tests next year.
"I know I cannot turn back time, but my past must stay in the past. I have afuture to fight for, a future without drugs."
For every teenager determined to mend their ways, however, there are dozens more who are taking their first steps into the murky world of drugs.
Substance abuse among young people is on the rise, with popular "designer drugs" such as ice, ecstasy, ketamine and triazolam readily available at nightclubs and karaoke bars in major cities like Beijing, Shanghai, Nanjing, Guangzhou and Shenzhen, as well as along China's wealthy east coast, said the international narcotics report.
The drugs have been proved to damage a user's nervous system and lead to hallucinations.
"A bit of K powder (ketamine) does no harm and makes a party more exciting," said Li Meng, a university student on a night out with her classmates at a well-known club in the capital's Sanlitun bar area. "I am definitely not addicted, it is only a party must-have. I only spend about 500 yuan ($70) a night on it."
Li's drug fund is topped up by her monthly living allowance, which is given to her by her parents, who only earn a combined 4,000 yuan a month.
She said dealers often trade in the carpark of the club and, when China Daily reporters staked out the area, they saw two men dressed in baggy jeans and t-shirts approach a man who matched the description of one of the dealers Li described. After a brief conversation under the flashing neon lights, the men handed cash to the 'dealer', who then handed them a tiny plastic bag containing a powder.
When asked for their views, many clubbers seem unaffected and said they had become accustomed to drug deals being conducted around them during nights out. "Whatever drug you want, you can get it," added Li.

Young people see drugs as "stylish", rather than dangerous, said Gu Yingli, an official at the National Narcotics Control Commission, who feels the leading factor in the rising number of users was the fact "they see using drugs as some kind of status symbol".
"Fighting drugs is made more complicated because many youngsters do not know about the dangers, and don't even regard some substances as drugs," she said. "Experts fear designer drugs, like ice and ecstasy, will one day replace heroin as the major narcotic in China."
In Beijing, recreational use is the starting point for the majority of addicts, said Yi Yang, deputy director of the anti-drugs department of the municipal public security bureau. "What they fail to realize is that these 'recreational' drugs can lead people to commit crimes or even suicide," he said.
Figures from his department showed that most of the 310 drug users arrested by Beijing police in May were under the age of 30, while more than 11 percent of registered drug addicts last year were under 25. Of these, 25 were under 17 years old.
"The number of young drug users is also growing at an alarming rate in Shanghai," according to Xia Guomei, a researcher in drug trends at the Shanghai Academy of Social Sciences.
There were around 16,000 registered addicts under 35 in the cosmopolitan metropolis in the first quarter this year, up nearly 20 percent on 2008, showed statistics from the Shanghai Anti-Drug Commission.
And in Hong Kong, the situation is also worsening, with social workers and academics telling stories of encountering addicts as young as nine years old. It was reported there were 8,306 reported psychotropic drug users in the special administrative region last year, almost a third more than the 6,335 registered in 2005.
Chief Executive Donald Tsang pledged last month to take quick action to curb the problem of drug use among young people amid rising public concern after reports of kids taking ketamine in school, said Xinhua News Agency.
"Young people are the most valuable asset for Hong Kong," he said. "Drug abuse is their number one enemy. The government will spare no effort in combating the youth drug problem."
(China Daily 07/21/2009 page7)