Snoopy took us all along for the ride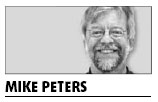 To recall how the first man on the moon seized the public imagination 40 years ago, you might need to look no further than your beach towel or your child's lunchbox. The image of Snoopy in a space helmet still grins from everyday products.
The most marketed member of the Peanuts cartoon gang, Snoopy fed the excitement in 1969 as he joyously raced to be the first beagle on the moon.
Peanuts creator Charles Schulz was fixated on astronautics, says the late cartoonist's son Craig, a board member of the Charles M. Schulz Museum in California.

Today's Top News
Editor's picks
Most Viewed