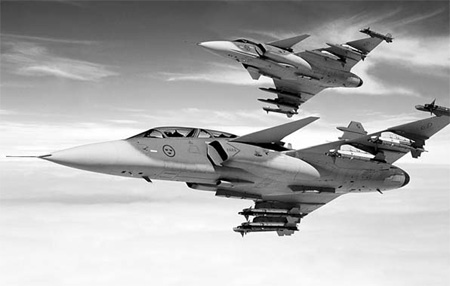 Two Saab JAS 39 Gripen fighter jets are shown in this undated company photo. Saab AB
LONDON: Saab AB, the Swedish maker of the Gripen jet fighter, is ready to make Brazil the manufacturing center for the aircraft to increase its chances of winning a $1.8 billion order and safeguard the model's future.
Saab is prepared to shift as much as 50 percent of future Gripen production to the South American country, where the main competition to provide 36 warplanes is from Boeing Co's F/A- 18, Bob Kemp, marketing chief for the $50 million plane, said. Final assembly work has already been offered to Empresa Brasileira de Aeronautica SA, or Embraer, he said.
Saab is betting on the Brazilian order to rescue the flagship Gripen as the production backlog shrinks. Winning the contract, which may be awarded as early as next month, is crucial to establishing the model as the warplane of choice in markets not already dominated by Boeing and Lockheed Martin Corp., which is grabbing market share with its F-35.
"Maybe in the future Brazil will become the leading exporter of the next-generation Gripen," Kemp said by telephone from Linkoeping, Sweden, where Saab is based. "This fits perfectly with their strategic ambitions. We are looking at six or seven major defense companies that have the potential of offering equipment for our aircraft."
Brazil's defense ministry said that final bids for the contract were submitted last month from Boeing, Saab and France's Dassault Aviation SA, which is pitching the Rafale. The air force will make a recommendation to Defense Minister Nelson Jobim in early August, with the final decision in the hands of President Luiz Inacio Lula da Silva.
Saab may be able to fend off Boeing because it's able to transfer more technology to Brazil than the Chicago-based company, Kemp said, adding that the Gripen costs about 20 percent less than the more-sophisticated F/A-18 and is better matched to Brazil's need for a low-maintenance fighter able to operate in small numbers from widely dispersed airfields. Spare parts and maintenance may also cost one-third less, he said.
While Brazil's initial requirement is to replace a batch of aging Mirage jets made by Paris-based Dassault, the country may need as many as 120 planes, Kemp said, each with a life of as many as 40 years.
"In terms of value for money the Gripen is a superb aircraft, but Saab is at a terrible disadvantage in not having a strong home market," said Richard Aboulafia, vice-president at Teal Group, a Fairfax, Virginia-based consultancy.
While the model has so far won 250 orders, 204 of them are from Sweden, where some planes have been leased out as the government reins in defense spending.
The future of the 1,320 mile-per-hour plane will be determined by purchases in Brazil, India and Switzerland within the next 18 months, Aboulafia said. Saab may need to provide more inducements because it can't match the offset work that Boeing can offer in fields such as civil aerospace, he said.
Brazil would be granted a full 50-50 partnership on development, production and marketing of the Gripen for export, the executive said, including the manufacture of high-value communications, display and avionics systems.
Saab has so far won only two export contracts for the Gripen, with South Africa buying 26 planes and Thailand taking six. Deliveries will run out in 2012 and output is down to 10 to 12 aircraft a year from about 15 previously, with suppliers including Volvo Aero, maker of the Gripen's RM12 engine, already winding down production.
Bloomberg News
(China Daily 07/08/2009 page16)