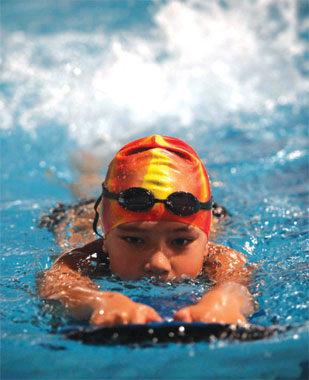 Children and adults alike can brush up on their backstroke this summer with the Dragon Fire Swim Team.
Founded by head coach Kevin Hua in 1992, the swim team offers swimming lessons for children, as well as more competitive swim classes for older, more experienced swimmers.
The group meets at several of Beijing's international schools (Canadian International School, British School and Western Academy) for lessons each week.
Hua says the team is different from other swim teams because it is very inclusive. "When I was a child, usually the coaches would choose the swimmers they wanted," he says. "But here, you can choose a club or coach yourself. We were new in China when we started, and we're still new."
There are many international schools in Beijing, but not all of them have international swim teams, according to Hua. There are classes for multiple skill levels, from beginner to advanced.
The international students that make up the teams come from over 25 countries.
"We have about 300 kids; we are the biggest international swim team in Beijing," says Hua.
Some of the more advanced students even compete in swim meets all around Asia. The team has been seen competing at meets in Hong Kong, Thailand and Singapore.
"Some of the swimmers are at a high level, junior Olympic level," says Hua.
He plans to make the team even bigger in the future, even though it is already large.
"I want more local people joining my classes," he says.
Other than the obvious physical benefits from swimming, Hua believes his classes teach students an even bigger lesson.
"It becomes learning about the spirit. If a young person joins a sport, they learn how to compete and work for a target. If you pick a target and work hard, you can achieve it," he says.
The Dragon Fire swim team's summer season begins on June 22.
A popular children's class, which features three 45 minutes lessons per week, costs 220 yuan. For more info check out the group's site: http://www.dragonfire.com.cn/home.htm
Story by Mike Fuksman, photos by Wang Jing
(China Daily 06/27/2009 page6)