Beijing-born artist He Si presents 25 different types of iris blossoms in her solo exhibition, Communicating with Flowers. Apart from the oil paintings of irises, the exhibits also include five self-portraits and three ceramic works.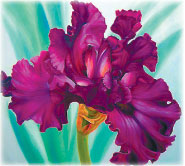 In the Irises Series, each oil painting has only one iris blossom. The petals' softness conveys a sense of clarity and simplicity that goes beyond mere external beauty. She puts different shades of color to good use to capture the flower's inner strength and energy. The series has been on display in major art galleries in the US since 2003.
Chain, created in the 1980s, is an abstract ceramic work. Combining traditional Chinese artistic themes and values with Western aesthetic forms and expressions, this work was displayed at the Toronto International Art Festival in 1987 and received the Medal of Excellence in the Invitational Art Exhibition in Singapore in 1992.
He began her art career at the age of 12 and went on to study at the Central Academy of Art and Design. She first gained recognition for her innovative approach to her ceramic works. After teaching at the academy for six years, she went to the University of New Mexico in the US as a visiting scholar for three years. She now lives in California
Beautiful images of super-realistic flower blossoms, irises in particular, are her new signature art pieces. As a nature lover, she believes the best expression of nature's beauty is flowers in bloom.
June 20-July 18, Coral & Feather Gallery, D 03-4, 798 Art District, 4 Jiuxianqiao Lu, Chaoyang district. , 珊和羽画廊,798艺术区中二街
Qiu Yijiao
(China Daily 06/27/2009 page6)