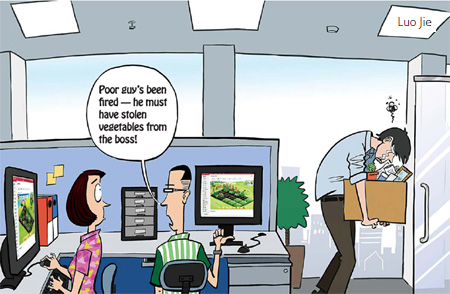 A worker at a Swedish insurance company was fired at the beginning of this year because she cried off sick but appeared online at Facebook. The story finally has its Chinese version. Deng Lei (not his real name), a team leader in an Internet Media company based in Xiamen, Fujian province, lost his job because he frequently logged in at Kaixin, the most popular Chinese SNS (Social Networking Service) website.
Deng had been working for the company for five years. At the beginning of this year, the director of the human resources department warned him that he was spotted spending time at www.kaixin001.com during work hours. After several warnings, he was fired.
Kaixin is said to be the Chinese Facebook. When Deng registered in the middle of last year, he discovered a game called "Trading Friends", in which you earned 500 yuan (in online points) for every person you referred to the site. In order to earn as much money as he could, he sent invitations to all his friends. Nearly all of them became members of the site and brought in their friends, too. Through this, and other games, Kaixin lured an army of members without spending a dime on advertising.
One week later, Deng found another game, "Fighting for Parking Lots", similar to "Parking War", in which members earned "money" for finding parking spaces.
"I checked every half an hour to move the car," says Deng, who reckoned that the more money he amassed, the more popular he would be among his friends. "I spoke to a colleague at work one day and asked her to share her parking lots with me. She was very surprised because we hadn't spoken to each other before. We've been friends ever since," he says.
Now Kaixin is the fastest-growing website in China. It has 20 million regular users and more than 700 million clicks per day. According to data released by Alexa, the Web information company, Kaixin has been the 12th most frequently visited website in China over the past few months, with visitors spending on average 37 minutes a day on it.
Alexa says 25 to 34-year-olds are greatly over-represented, especially college graduates who browse the site at work.
These facts have gradually given rise to a "Kaixin culture" in workplaces. Office workers like to swap stories about what they have achieved on the site and whenever they want a break, log in and cannot stop. Deng used to open his page every hour to check his parking lots.
When the HR director spotted what was happening, however, he decided he had no option but to ban Kaixin in the office. Staff did not take it seriously when the ban was introduced at the end of last year until Deng lost his job.
A report released by Web filtering software company Websense says Asian office worker spend a little over four hours a week online, dealing with private things. In China the figure is five and a half hours, although many IT managers believe the true figure is over six hours, meaning an employee spends on average of more than one hour a day on private matters at work.
Things came to a head in April when Huang Xiangru, general manager of Internet media site 8pima.com, set up an "Anti-Loser Union" with 30 other company managers. "Losers" refer to staff who indulge in online games and SNS websites at work. Within 20 days, more than 400 enterprises had joined the union, including HP China.
Huang told Beijing-based weekly newspaper Yweekend: "We are not taking aim at Kaixin but it truly takes up a lot of our employees' time."
Many companies are now blocking Kaixin. Chen Xi, a 25-year-old account executive in a Beijing PR company, says SNS websites, including Kaixin and Facebook, have been blocked from 9:30 am to 4:30 pm for several months, because her director thought it might affect people's work.
Xie Hong, a 25-year-old reporter, is just such an example of what has companies so worried. She became addicted to Kaixin at the start of the year when she came across a new game, "Happy Garden", which allowed users to plant different vegetables and fruit. Users could then sell their products to boost their ID "bank accounts" or even achieve the same result by stealing from others. From that day on, Xie spent every night "harvesting" her fruit and veg, never sleeping before 1 am. Then she'd set her alarm for 6 am - and the first thing she did after getting up was steal vegetables from her online friends.
"I opened the website at least 10 times a day. I don't know why I am so fascinated with 'stealing vegetables'. Is it because I am evil inside?" Xie asked herself.
Kaixin users clearly regard logging on as much of a "task" as their own jobs. "It is a slight Internet addiction. It will develop into a reliance on virtual social behaviors," says psychological consultant Su Gaoshu in the Maple Women's Psychological Counseling Center Beijing. "Those addicted will avoid their real life. The serious ones will even have body symptoms such as vomiting and headaches.
"Addiction to Kaixin seems to tighten people's relationships but it reflects the pressure the user feels in the real world. The less he or she faces reality, the more difficult it becomes to get used to it."
English psychologist Aric Sigman published a story in the Biologist magazine, warning that more virtual social networking sites would decrease people's chances of connecting with the real world.
"Anti-Loser Union" chairman, Huang, meanwhile, proposes its own answer to the problem. He hopes companies develop software to stop workers accessing SNS websites. That will help to rid employees of their obsession, he says.
(China Daily 06/25/2009 page18)