Helicopter manufacturer AgustaWestland and its joint venture partner Jiangxi Changhe Aviation Industries Corporation are set to roll out 12 A109E helicopters next year.
Some of the choppers would be delivered to customers out of China, Fulvio Maurogiovanni, vice-president for South East Asia & China of AgustaWestland, said in an interview with China Daily.
A109E is one of the fastest light double-engine helicopters. Since its launch in 1997, over 470 units have been sold around the world. Including the previous version of A109, the company has so far sold 1,800 such helicopters till now across the world.
AgustaWestland, a company under the Italian high-tech conglomerate Finmeccanica, is planning to let its joint venture produce part or even the whole piece of the fuselage of A109E in future, he said.
Fulvio said the company's present assembly line can assemble 12 A109E helicopters annually. Going forward, the company may expand the capacity depending on market needs.
"A country like China will not forever buy helicopters from abroad, but rather develop its local expertise for the same. Therefore it is imperative for a manufacturer to be part of the system and contribute to the growth of technology and manufacturing capability," he said.
"If we are too protectionist, we will lose new opportunities in the market. China is a big market, and you can grow with it. It benefits both," he said.
The A109E helicopter model, assembled in the JV called CA109, is a multi-role helicopter and it has a wide range of uses like police patrolling and firefighting.
In the past two years, the Italian helicopter company has trained Chinese workers in the joint venture, and three A109E helicopters have been delivered, including to the China Central Television Station and Beijing police before the 2008 Beijing Olympic Games.
Its production line in Italy will deliver two A109S, an improved model of A109E helicopter, to the Maritime Safety Administration of China that has just signed the contract.
But he denied earlier reports that AgustaWestland would transfer all of its production activities for the A109E to China eventually.
"We are in the expansion phase, and we need to increase capacity," he said.
Jiangxi Changhe Aviation Industries Corporation, under the Aviation Industry Corporation of China, is a leading helicopter manufacturer in China, which has developed and manufactured Z-8 and Z-11 helicopters.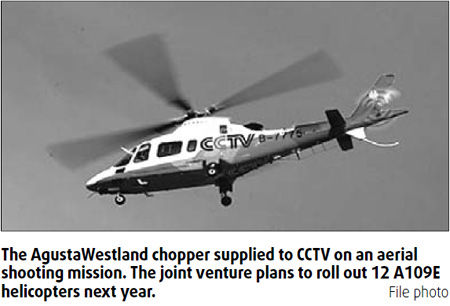 (China Daily 06/25/2009 page14)