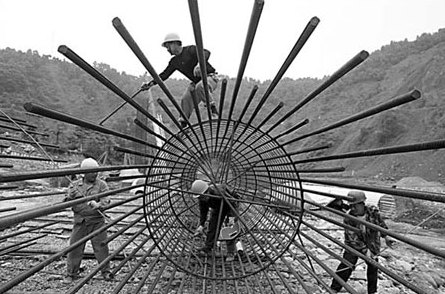 Workers assemble rebar for construction of a bridge support for Lanchaiwan Bridge on June 9 in quake-hit Shifang, Sichuan province. Begun on May 12, the construction of the 5.9-km long bridge is set to be completed in April next year. Kou Yuanlin
Ever since her house was destroyed in the massive earthquake last year, Wang Xianqiong, who once owned a beauty salon in Beichuan county, Sichuan province, has been staying in a makeshift shelter with her disabled husband and college-going son.
Though the government has promised its share in helping quake victims build or buy new houses, Wang has no idea when she will be able to start her life afresh in a decent flat.
Beichuan, one of the worst hit areas by the 8.0-magnitude quake, started rebuilding its city on a new site in May. The government has said its residents could possibly move into the new city by May next year.
But houses in the city, even though at subsidized rates, are too expensive for Wang to afford.
"I am earning a living for my family running a small hair salon in the temporary settlement area now. We barely manage to make enough to feed ourselves. How can I save money to buy a flat?" the 41 year old questioned.
Despite efforts and massive investments, the Chinese government is still facing several difficulties in its post-quake reconstruction projects, according a State Council report released yesterday.
The poor in urban and rural areas have inadequate access to financial resources to rebuild their homes and there is still a shortage of construction material, the report said.
As part of the country's 4 trillion yuan economic stimulus package, the central government has poured nearly 155 billion yuan ($22.7 billion), including $1.8 billion from overseas loans, into reconstruction work.
By the end of April, Sichuan, Gansu and Shaanxi provinces had completed a total of 9,400 projects, mainly in housing, infrastructure, public services, industry and city reconstruction, and kicked off another 21,000 projects.
"The average price for commercial residential housing in Beichuan before the earthquake was about 1,400 yuan per sq m," Wang said.
The government has promised to give a 32,000-yuan housing subsidy to families of three, plus a 50,000-yuan low-interest loan.
For Wang and others like her, it's still nowhere close to enough.
"No matter how much the government lowers the prices of the flats, I still have no money to buy one," Wang said.
Wang's story is similar to those of hundreds of people in Beichuan county, where most businesses were destroyed, leaving many without means of earning an income.
Wang, her disabled husband and son might have been fortunate enough to survive the disaster, which killed more than 70,000 people, but like most, they have nothing left.
Her life savings were invested in her beauty salon, which, like her house, became a pile of debris.
Zhang Ping, director of the State Development and Reform Commission, told the 9th session of the Standing Committee of the 11th National People's Congress (NPC), China's top legislature yesterday: "We always give first priority to housing projects in our whole reconstruction plan."
In rural areas, almost all houses threatening to collapse have been reinforced and 76 percent of newly constructed houses are complete, said Zhang.
"But the urban housing projects are lagging behind due to the complicated ownership issue," he said.
In cities, only about half of the shaky houses have been reinforced and "8.9 percent of planned new houses have been built", according to the State Council report. It also pointed out that in addition to the 51 worst hit counties, other quake-hit regions have "not received enough reconstruction funds" to rebuild public service facilities, such as schools and hospitals.
(China Daily 06/25/2009 page4)