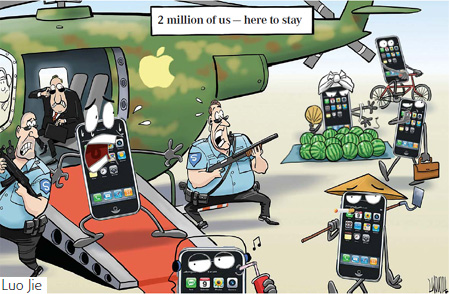 They don't sell iPhones at Apple's flagship store in Beijing but this has not prevented thousands of programs being developed for Chinese users who have managed to get their hands on one.
These applications - "apps" in Apple jargon - are being rolled out at a frantic pace as local software developers jump on the iPhone bandwagon and churn out content for users both here and overseas.
The biggest local player is HandCN, part of Colorme (Beijing) Info Tech whose CEO, Shi Weixing, believes the smart phone is a revolutionary appliance that is transforming the way we learn, play and interact. Nor is he deterred by the fact the iPhone operates in a legal vacuum.
HandCN's team of 40 people was formed last year to meet the iPhone challenge and is now well placed to cash in on the huge demand for programs. The market is set to grow exponentially when Apple reaches agreement for iPhones to be sold in China.
"At present, our apps account for 3 of the top 10 in the Chinese market. After iPhone's entry into China we will be the largest developer in China," Shi says. "When we have accumulated lots of experience on this platform we can successfully and smoothly cooperate with more platforms, such as Ovi by Nokia, mm by China Mobile and other marketplace software."
China's regulators have yet to approve the iPhone for sale here because of squabbles between Apple and local telecom operators over revenue sharing, technical issues and competing business models.
This has led to the bizarre situation of a product made in China (at Foxconn's massive plant in Shenzhen) not being legally sold here, the world's biggest mobile phone market. You cannot even buy iPhone accessories at Apple's one-and-only official China store in Beijing's Sanlitun.
Nevertheless, it is readily available at electronic malls in stores that are branded "Apple authorized resellers" and sell unlocked or "jailbroken" ones, thereby allowing non-Apple software to run on the phone.
There are possibly more than 2 million iPhone owners in China, according to Duncan Clark, chairman of the respected Asia-based BDA telecom consultancy, who says: "Many Chinese consumers buy smuggled phones or arrange to import them from outside the mainland, especially Hong Kong.
"All telecom operators are afraid of the disruptive nature of the iPhone, as it can marginalize telecom operators to mere 'dumb pipes' with application revenues going to Apple and to developers."
Among the sticking points for an official iPhone release are security concerns over the iPhone's WIFI (wireless) capability. This can be overcome, says BDA analyst Liu Ning, who is confident a breakthrough is imminent. "I expect China Unicom to launch iPhone in Q4 this year," he says.
That should dovetail neatly with the introduction of iPhone's just-released 3GS, which offers improved speed and more functions.
Another Beijing company that has made an impact in the world of Apple apps is Exoweb's Happylatte, which is responsible for the remarkable Pee Monkey game. iPhone users around the world got hooked on the idea of controlling their monkey to pee into a toilet rather than on the floor. In May, Pee Monkey was the number one game in the United States, Singapore, Mexico and Italy as well as in Hong Kong and Taiwan, registering 1.4 million downloads in two months.
At Exoweb's Chaoyang home the loft playroom, with flat screen TVs for gaming, air guitars and drum machines, has a relaxed atmosphere. Company founder and managing director, Norwegian Bjorn Stabell, says Pee Monkey was an experiment: to develop a game quickly and put it in the Apple App Store.
"We needed a cute icon, interesting name and a show-off effect. It went viral," Stabell says. "The iPhone is a whole new ecosystem, a computer on the go. The average number of apps on a blackberry is two. On an iPhone it is 40, all individually tailored, compelling and inexpensive."
Pee Monkey, however, is not available through China Apple App Store, which does not have a games category because of national licenses controlling the release of online game content.
Beijing software and app developer Li Shuai says the situation is further complicated in China because many local iPhone users dislike the Apple App Store and often download for free on a profusion of sites like Appulous ("The solution to a flawed app store") that sell non-authorized games through links to individuals, or P2P networks.
While this messy market for pirate apps is not confined to China, Li says the unlocked and jailbroken status of most iPhones here and Apple's proprietary and inflexible attitude, means that it has become rampant.
Elsewhere, foreign app developers have also divined promise in the China market and have begun producing apps for it, such as French company Presselite's subway map of Beijing.
"We think China could be iPhone's biggest market in the future ... We plan to develop more apps for Chinese cities. The feedback is very good from consumers and Apple likes what we are doing," says Antoine Morcos, co founder of Presselite. "All projects are done in our office in Paris. iPhone is magic, we can reach all the markets in the world thanks to App Store."
Meanwhile, back in Beijing, HandCN is busy programming apps with Chinese characteristics in the hope there will be not just local but international demand for them.
"We have submitted several apps with 'Chinese characteristics' to App Store," says Shi Weixing, "but haven't found a successful way to promote them. We are still looking for ways to monetize these Chinese characteristics."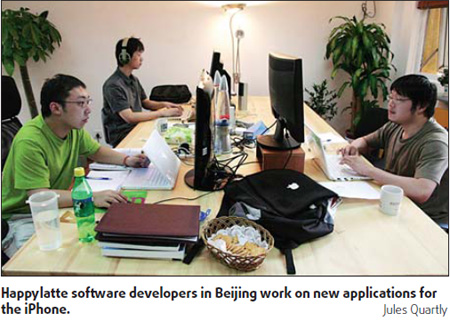 (China Daily 06/24/2009 page18)