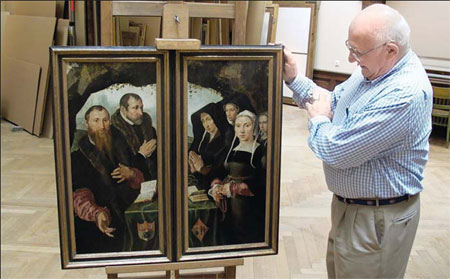 Thomas Selldorff looks at a painting that was stolen from his grandfather's collection by the Nazis during World War II. The piece will hopefully be restituted soon, as government officials will meet in Prague this week to review current restitution practices. Reuters
VIENNA: Eighty-one-year old Thomas Selldorff, who fled Austria with his family before it was annexed by Nazi Germany in 1938, hopes an upcoming international conference will bolster efforts to return Nazi-looted art.
The Nazi's seized over 200 artworks owned by his grandfather as part of a policy of seizing Jewish property. So far, Selldorff has been able to retrieve only two of the lost paintings.
"I want to be able to pass these things on to my family ... I want them to have the link and an appreciation for some of the things my grandfather was involved with," said Selldorff, who lives in the United States and wants to exhibit the altar pieces by Austrian baroque artist Kremser Schmidt in a museum.
Some 65 years after World War II, experts say thousands of artworks confiscated by the Nazis still need to be restituted to their rightful owners.
Government officials from around 49 countries, dozens of non-governmental groups and Jewish representatives will meet in Prague this week to review current practices. They are likely to sign a new agreement to step up restitution efforts.
Some participants hope the conference will lead to the creation of a central body responsible for publishing updates on countries' progress, which could prompt them to do more.
The task of restituting Nazi-looted works is an epic one. The Nazis plundered a total of 650,000 art and religious objects from Jews and other victims, the Jewish Claims Conference estimates.
Artworks were auctioned off, handed over to national museums, or stashed away for a Fuehrer museum Adolf Hitler was planning to build in the Austrian town of Linz, where he spent a part of his youth.
At the end of World War II, some works were returned but many continued to circulate on the international art market or stayed put in museums, and it was only in the 1990s that there was a new burst of Holocaust restitution.
Patchy record
Austria is considered among the leaders of art restitution efforts, passing a law in 1998 governing art restitution and has since returned over 10,000 artworks.
Austria's Belvedere Gallery has had to restitute 10 paintings by Gustav Klimt, including two portraits of Adele Bloch-Bauer, which are among the artist's most famous works.
"Most countries have not even undertaken the work which was endorsed in Washington in 1998," said Anne Webber, co-chair of the Commission for Looted Art in Europe , referring to the non-binding Washington Principles agreed by 44 countries in 1998.
Under the Washington Principles, countries agreed to identify stolen art, open up archives, publicize suspicious cases and "achieve a just and fair solution" for the Nazi-persecuted pre-war owners or their heirs.
Lawyers and experts say many countries have not enforced the principles and hope they will agree at the Prague conference on a transparent way to report on progress.
Backlash
As art restitution speeds up and returned works fetch record sums at auctions and private sales, there is a beginning of backlash against the claimants who some say are only tracking down their inheritance to sell for profit to the highest bidder.
Yet art restitution experts say most looted artworks are worth more sentimentally than financially and they are the only remaining possessions of murdered relatives.
Expert Sophie Lillie argues museums that benefited from Jewish expropriation and then dragged their feet on art restitution for decades have a moral responsibility to address the issue.
"This is their last chance to try to atone for past wrongs."
Reuters
(China Daily 06/24/2009 page10)