A hotel was torched, police cars overturned and officers pelted with rocks as thousands of people rioted over the weekend following the mysterious death of a cook in Hubei province, residents said.
Nearly 10,000 riot police marching in formation used shields for protection and were backed by armored vehicles as they put an end to three days of violence in Shishou by dawn yesterday, a local woman surnamed Cheng said.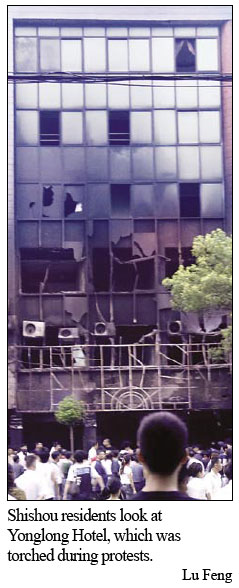 Cheng estimated that up to 10,000 people were involved in the riot but some media organizations said the figure was much higher.
Xinhua put the number at around 1,000 and said that there were no official reports of injuries.
Security was tight last night as police guarded roads surrounding the blackened Yonglong hotel after dispersing the crowd.
The violence followed the death of 24-year-old Tu Yuangao, a cook at Yonglong Hotel, who was found dead outside the hotel's gate on Wednesday evening.
Police said a suicide note left by the chef showed he was "pessimistic and hated the world".
A resident surnamed Chen told AP that protesters started gathering outside the hotel Friday and by late Saturday had clashed five or six times with police, smashing six police vans and fire trucks.
Chen said thousands of armed police forces with shields and batons were deployed in the area, AP reported.
Amateur video, which could not be independently verified, showed protesters pelting rocks and projectiles at riot police. Using a megaphone, police told protesters to drop their weapons and said that the demonstration was illegal and ordered the crowd to disperse.
Cheng told China Daily that local officials were involved with the hotel, which she said was "engaged in drug dealing".
Tu found out the truth and decided to resign, Cheng said.
She said he asked for his salary but was refused, and alleged that Tu was later beaten to death by hotel staff or gangsters.
Xinhua reported that some local people believe that gangsters killed Tu, and others blame the hotel boss, believed to be the mayor's brother.
A man surnamed Zhang in his 50s said "Yonglong hotel is a den for drug-addicts" and showed Xinhua reporters used syringes in the rubbish at the back of the hotel.
A man who answered the phone at the Shishou government office refused to comment on the allegations, saying that the cause of death was being investigated.
Tu's body was taken to the morgue yesterday morning after his family agreed to conduct a police-proposed autopsy.
Xinhua contributed to the story
(China Daily 06/22/2009 page1)