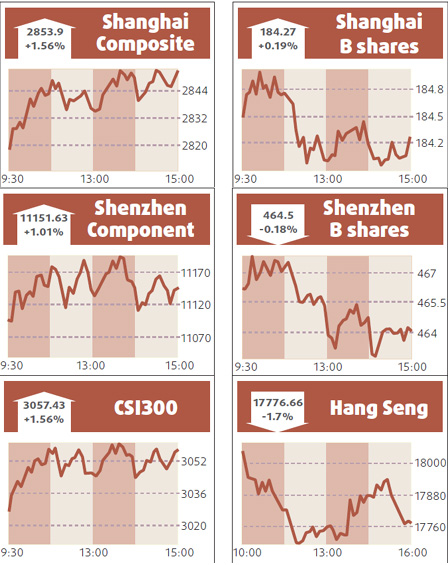 The mainland stocks rose, driving the benchmark index to an 11-month high, after the World Bank raised its growth forecast for the country this year and Shenyin & Wanguo Securities Co recommended buying machinery makers.
"The World Bank has reinforced the belief that the economy is recovering," said Zhao Zifeng, a Shanghai-based fund manager at China International Fund Management Co, which manages $10.2 billion. "Improvement in corporate fundamentals should follow."
The Shanghai Composite Index added 43.78, or 1.6 percent, to 2853.90 at the close, its highest since July 28, 2008. Stocks on the index trade at 28.78 times earnings, more than the 12.9 times they fetched at their November low. The CSI 300 Index rose 1.6 percent to 3057.43.
Industrial and Commercial Bank of China climbed 2.6 percent to 5.07 yuan. China Construction Bank Corp, the country's second-largest bank, jumped 5.2 percent to 5.87 yuan.
China Shenhua Energy Co, the No 1 coal producer, rose 5.5 to 28.07 yuan. Datong Coal Industry Co, China's third-largest coal company by capacity, rose 5.9 percent to 35.75 yuan.
Sany Heavy, China's biggest maker of machinery for handling concrete, jumped 4.9 percent to 27.99 yuan. Changsha Zoomlion Heavy Industry Science & Technology Development Co, the No 2, climbed 4.1 percent to 21.52 yuan. Both stocks closed at the highest since May 6.
Investors should buy Chinese machinery stocks because the companies will benefit from increased property investment and loose monetary policies, analysts Hu Limei and Li Xiaoguang at Shenyin & Wanguo Securities wrote in a report yesterday. Sany Heavy and Zoomlion Heavy are the top picks, it said.
Hang Seng lower
Hong Kong stocks fell, dragging the benchmark index to a three-week low, as banks declined after Standard & Poor's said operating conditions for US lenders will become "less favorable," and smelters dropped on lower prices for metals.
The Hang Seng Index lost 307.94, or 1.7 percent, to 17776.66, its lowest close since May 26.
The Hang Seng China Enterprises Index declined 2.6 percent to 10422.31.
The benchmark Hang Seng Index has soared 57 percent from a more than four-month low reached on March 9. Shares on the gauge are valued at 16 times estimated earnings, up from 10.7 times at the beginning of this year.
Bloomberg News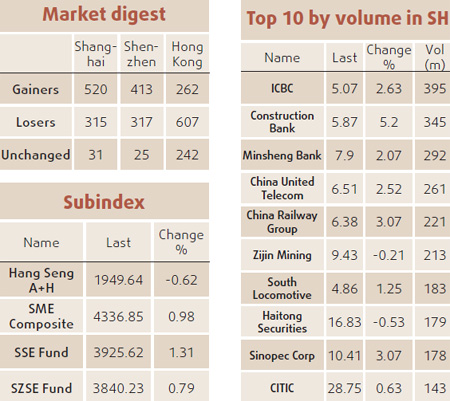 (China Daily 06/19/2009 page15)