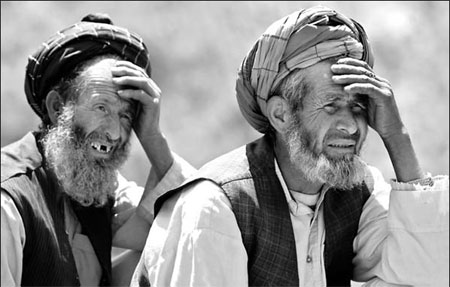 Afghan farmers attend an anti-narcotics gathering in Talbozag village of Badakhshan province on June 14. The remote northern Afghanistan province has been a showcase for government efforts to battle the drugs trade, which accounts for nearly all the world's heroin. Reuters
TALBOZANG, Afghanistan: Fifty-year-old Abdul Wadud walked for two hours across Afghanistan's remote northern mountains to hear a police commander give yet more promises of aid for those who turn their backs on growing opium.
Wadud does not grow drugs. But if no money comes soon, he will.
"The government told us several times they would help us and they didn't," he said, crouching barefoot on the ground in traditional Afghan loose shirt and trousers and explaining he feeds a family of 15 on occasional work as a day laborer.
"If the government or the aid organizations don't help us - yes we will have to start growing opium," he said. "If they build us schools and roads we promise never to grow opium."
Wadud and around 30 other village elders from the area had gathered on a hillside deep inside the Hindu Kush mountains, to attend a "shura" or meeting, organized by provincial authorities to dissuade the men from growing the drug.
Their Badakhshan province in remote northern Afghanistan has been a showcase for government efforts to battle the drugs trade, which accounts for nearly all the world's heroin.
Until 2006 Badakhshan was one of the main opium growing areas in Afghanistan, producing the country's second biggest crop.
But last year its output fell by 95 percent, to a mere 200 hectares under cultivation, close to being declared 'poppy free' by the UN, which credited government information campaigns and eradication programs for the success there. The UN has warned, however, that last year's improvement may not hold without more aid for poor farmers.
Sayed Musqin Wafaqish, a police commander sent in from Kabul to head counter-narcotic efforts in the area, told the bearded men that the aid is coming, as long as they do not revert to growing opium.
"We know you are poor and because you are poor you want to grow poppy," he said. "It is a disgrace. It gives a bad name for Afghanistan because we are growing poppy. I promise you in the near future you will get some help. Your village is on the top of the list."
Despite a marginal drop in production, Afghanistan last year still produced more than 90 percent of the world's opium, a thick paste from poppies, which is processed to make heroin. But the overall numbers hide wide variations from province to province.
As a result of improvements in areas under government control in recent years, most of the production is now concentrated in southern provinces such as Helmand, in areas partly or wholly controlled by Taliban militants.
Afghan and Western anti-narcotics officials tout "alternative development" projects such as providing wheat seeds to farmers. But locals at the shura say they have yet to see the benefits.
Sayed Amir, 60, an elder from the village of Talbozang, shook his head when asked if he has received any government help.
"No, no, no. Never," he said. "The government promised us seeds but we never received them."
Officials in the north say they have received far less international aid than in the violent south, where donors spend money to win over hearts and minds from insurgents.
"We hear in radio broadcasts that the international community is helping our country. Where is the help?" said Sayed Ayub, head of Talbozang's development council. "We are ready for any cooperation with the government. If the government asks us not to grow poppy, they should help us."
Reuters
(China Daily 06/17/2009 page11)