Let people decide on Green Dam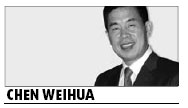 The Ministry of Industry and Information Technology's latest regulation to preinstall filtering software on all new computers by July 1 has triggered public concern, anger and protest.
A survey on Sina.com, the largest news portal in China, showed that an overwhelming 83 percent of the 26,232 people polled said they would not use the software, known as Green Dam. Only 10 percent were in favor.
Despite the official claim that the software was designed to filter pornography and unhealthy content on the Internet, many people, including some computer experts, have disputed its effectiveness and are worried about its possible infringement on privacy, its potential to disrupt the operating system and other software, and the waste of $6.1 million of public fund on the project.

Today's Top News
Editor's picks
Most Viewed