VIENNA: A Japanese diplomat took a clear lead over four rivals in a straw poll held yesterday to identify a frontrunner to take over the UN nuclear agency, but it was not enough to defuse fears of another election impasse.
Japan's Yukiya Amano drew almost twice as much support as the next contender, South Africa's Abdul Samad Minty. But he again fell short of a two-thirds majority needed for victory, as he had in an inconclusive election three months ago.
While giving Amano fresh momentum in the contest to replace Nobel Peace Prize laureate Mohamed ElBaradei, who leaves office in November, yesterday's non-binding poll did not raise hopes he would emerge triumphant in a second-round election on July 2.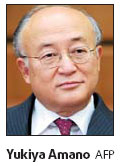 Another stalemate could prolong the race for months and cause disarray in the International Atomic Energy Agency (IAEA). Meanwhile the fate of a wobbling nuclear non-proliferation regime, which the UN watchdog is supposed to maintain, is hanging in the balance.
The Democratic People's Republic of Korea conducted new nuclear and missile tests last month after kicking out IAEA inspectors and leaving six-party denuclearization talks. Iran is pursuing uranium enrichment, of potential use in building atom bombs, while restricting IAEA monitoring and shunning new US diplomatic overtures.
The IAEA's board of governors is divided between developed nations, which want a hard line against alleged proliferators, and poorer countries who want the agency to focus more on getting the rich to share nuclear energy for peaceful purposes.
"It is worrisome that there is a complete North-South split. This could lead to a total paralysis of the IAEA at a time when the world is facing increasing security and proliferation risks," a senior diplomat close to the agency said.
"This looks more like an auction than an election. There is a tendency on the part of some powerful countries to impose a marionette figure through which they might conduct the affairs of the agency," he said, alluding to US-backed Amano. "But in the end, if the IAEA loses independence, everybody will lose."
The straw poll aimed to pinpoint the top 2-3 contenders and nudge others to pull out of the race.
Amano, a veteran IAEA ambassador, took 20 of 35 votes cast, while Minty garnered 11, diplomats said. Luis Echavarri, Spanish head of the Organization for Economic Cooperation and Development's nuclear arm, won four votes. Belgium's Jean-Pol Poncelet, a senior executive at French nuclear group Areva, and Slovenian constitutional judge Ernest Petric failed to win any.
Petric, a former Slovenian IAEA envoy, indicated he could drop out in coming days. There was no comment from the others.
In March, Amano fell a single vote short of victory in a two-way contest with Minty. The three Europeans threw their hats into the ring last month.
Voting on July 2 will be repeated several times if needed to yield a winner. But diplomats rated the odds of another stalemate at over 50 percent, with one saying, "No one in this group looks like a stellar bridge-builder."
If another impasse occurs, the race will be thrown open again, restarting a hunt for a winning, consensus candidate.
Reuters
(China Daily 06/10/2009 page12)