It's an issue no less important than life itself, even though many describe it just as water crisis.
When we look at the amount of water in the world, it may seem impossible to imagine we could experience shortages amounting to a crisis. More than 70 percent of the earth's surface is covered by water. But 97.5 percent of that is salt water, and most of the freshwater is frozen in the ice sheets of Greenland and Antarctica. Nonetheless, 10 million cubic km of freshwater can be available, much more than the 8,000 cu km needed each year, to support the world's 6.5 billion people.
The problem is that much of the water is found in the wrong places, in wrong volumes and at the wrong times. As a result, 1 billion people do not get the 5 liters of clean water per day just to survive, and 2 billion do not have access to the 50 liters per day to satisfy their basic needs of drinking, cleaning and sanitation.
More than 90 percent of the water consumed by humans is used by agriculture. Climate change, population growth and depletion of traditional sources of supply combine with the above factors to create what some call "a perfect storm" that could push countries into violent conflicts. And with its huge population and rising standard of living, China is at the heart of this crisis.
My focus is on two major themes: the demand and supply approach to addressing water shortage and trans-boundary water resources management.
That water is the supporter of life makes addressing its shortage even more difficult. Water is traditionally regarded as a "common" good with no individuals being held responsible for it. More and more communities around the world charge fees to homeowners for the water they get from municipalities. This discourages waste and has created a market for plumbing fixtures and appliances that use water economically.
But domestic use of water accounts for only 10 percent of human consumption. The same price constraints do not often apply to the 90 percent of the water that agriculture consumes. Even in many arid regions, farmers either do not pay for water or pay just a fraction of what homeowners do, so they have less incentive to conserve it. That deprives water suppliers of funds that could be used to improve infrastructure and reduce waste further.
Several decades ago, it seemed that rivers and lakes damaged by pollution had been lost forever. But enlightened policymakers across the world realized the terrible price their communities were paying in health, safety and economy because of these degraded resources. So they drew up programs that have achieved remarkable success in restoring the health and vitality of water resources once written off as "dead".
In Britain, the River Thames was once a polluted mess that could not sustain life. But now it is home to a thriving marine life. It still serves its important role as a major transportation route to the London region. Dramatic changes in standards of shipping and industrial use have shown that good policy can recover these resources for the people.
Enterprises used to cheap and easy methods of waste disposal have resisted governments whenever they have imposed limits on the volume of industrial wastes that could be released into waterways. But such enterprises have learned new techniques for dealing with waste, too, and businesses have grown to provide the services necessary to meet the new standards.
But not all degraded water resources can be restored. Communities around the world have been forced to tap rivers, lakes and aquifers, sometimes millions of years old, far beyond the limit at which they can replenish themselves. Above ground, lakes are shrinking and rivers are being reduced to pathetic flows, or drying up altogether. Below ground, a largely invisible crisis is unfolding as millions of wells are sunk into aquifers - 4 million in Bangladesh alone. Many aquifers are replenishable, but not all. And many that can be replenished do not get enough rain to match demand. Sometimes the empty cavities simply collapse, putting them beyond use forever.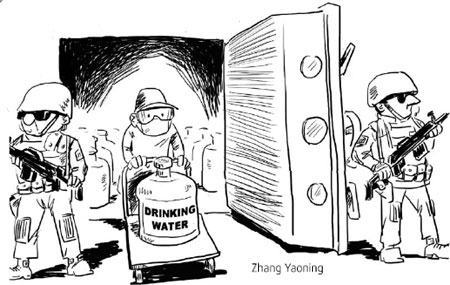 In his recent book, Plan B 3.0, Lester Brown catalogues the results. Water tables are falling, sometimes by many meters a year, in the breadbaskets of China, India, the US, Pakistan, Afghanistan, Iran, Saudi Arabia, Yemen, Israel and Mexico. Pumps are being drilled a kilometer or more into the earth to find water, thousands of more wells have dried up altogether and agricultural yields are shrinking. These countries contain more than half the world's people and produce most of its grain, warns Brown. And almost forgotten amid the human suffering are the terrible consequences for the natural world: freshwater fish population fell by half between 1970 and 2000, says the UN.
Dramatic efforts to reroute water supplies only forestall the problem and create environmental dangers of their own. Unless people can understand the value of water, become part of the process of conservation and begin using water carefully, the crisis will remain. Technologies for water preservation and wastewater recycling for human use are being advanced. More efficient irrigation, erosion prevention and rain harvesting are techniques that ought to become standard practice. And planting trees and removing more "thirsty" species of plants can make a significant contribution to conserving water resources.
Another interesting approach to conserving water is trade. Countries in the Middle East import food products that they cannot grow because of their dry climate. Encouraging regions that have ample water to produce water intensive crops and products is another way of letting drier countries or regions "import" water. Analyzing a country's competitive advantage for economic development should include a consideration of its water supply and the burden that certain forms of economic activity impose not only in the short term, but also in the long term on vital water resources.
Putting a price on water is not the same as "privatizing" water supply. It is a mechanism of putting water in its proper place in the calculation of public interest.
Water has emerged as a key issue that could determine whether Asia is headed toward mutually beneficial cooperation or deleterious interstate competition. Climate change and environmental degradation in the form of shrinking forests and swamps, which foster a cycle of chronic flooding and droughts, have made the specter of water wars in Asia more haunting.
Given that the watershed originates in China, it is up to Beijing to lead the conservation process. There are many examples of successful trans-boundary water managements to show that such regimes can be valuable to all the participants.
In China itself, ordinary people are fast becoming environmentally conscious, which makes them want eco-friendly products and ready to embrace the values that could lead to a change in the way water is managed.
Breach of environmental norms by a country can dissuade consumers in foreign markets from buying its products. If China plays a leadership role in water resources management it would not only contribute seriously to the security of its own long-term water supply, but also enhance its brand as a source of desirable and eco-friendly products.
The author is former prime minister of Canada. The article is an abstract from her keynote speech at a recent international symposium on water security held by China Institute for International Strategic Studies.
(China Daily 06/09/2009 page9)