Snake bites officer removing it from a house
A policeman that went to a family's house to remove a snake that bit a man was himself bitten by the rat snake in Nanjing, Jiangsu province, on Saturday.
Police received a call from someone who said a 3-m-long snake was crawling around a paralized bed-ridden woman. And when her husband tried to catch the snake he was bitten.
One officer used a stick to lure the snake into a sack held by another. But the snake bit one of the officers before it entered the sack.
The snake turned out be non poisonous.
(Yangtze Evening News)
Resident unite to wipe out fish-eating turtles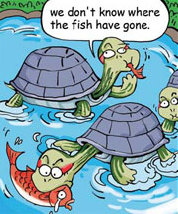 Some members of a residential community in Nanjing, Jiangsu province, are calling three red ear turtles fish killers.
The community boasts the largest artificial lake in the city and residents enjoy watching the beautiful fish.
However, a home-owner released the turtles in the lake but they've been eating the fish.
After one neighbor complained about the turtles, others said they should come together to fight the invasion.
The estate management office has invited experienced people to apprehend the "killers".
(Yangtze Evening News)
(China Daily 06/09/2009 page6)