The government has decided to make domestic consumption the engine of sustained growth. But many people tend to confuse it with personal consumption. And industrial lobbies have been urging the government to issue preferential policies for the property sector and the auto industry to help boost consumption.
Hong Kong's experience of the 1990s, when it saw more than six years of deflation, tells us that an economy doesn't need excessive subprime loans to create a big enough bubble in the property market that would hurt everybody once it bursts.
The experience taught us that a high rate of savings should be viewed as a virtue, not as a vice. It's the inappropriate use of savings that is to blame for the economic ills of today. The Chinese mainland's rapid growth is attributed to massive infrastructure building financed by a high savings rate. The yield from investment into infrastructure is long-term.
Putting more resources into education, healthcare and the environment is also investment. And such an investment has for long been overdue on the mainland. We know easy credit access for State-owned enterprises can lead to overcapacity. But we do not have to worry about overcapacity for a long time. When such a situation arises, the country will have enough room for improvement in quality and hopefully will see more demand for investment.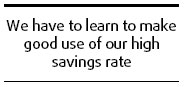 After that, we can increase the spending on social security and housing for low-income groups, which are not investment but nevertheless are very important components of social security because they enhance general welfare, social stability and harmony.
On completing these tasks, the government can consider a free or highly subsidized transport system. Beijing's example of subsidized subway transport is a good example of minimizing the risk of abuse in public service. Once a smooth and efficient public transport, which is free or subsidized, is in place, owning a car would only be a status symbol. The government can then think of scrapping hire purchase for cars so that fewer vehicles are on the streets. That will not only ensure a freer flow for public transport vehicles, but also mean reduced greenhouse gas emission.
In Norway, an example of a healthy market economy, most people make full down payment to buy a house. Norwegian society discourages installment payments, so people there tend to save more.
Installment (or delayed) payment is what a credit card encourages. A credit card is an unsecured personal loan that comes with a high interest rate and encourages people to spend money they are yet to earn. In modern cities, most people have more than one credit card, and many who overspend use one card to cover another. As such, most of the profit banks or credit card companies make is from cardholders who fail to pay on time and thus are charged more interest. Card companies actually encourage people to delay their payments so they can charge more interest.
Before the Asian financial crisis, credit cards were not very common in South Korea. But after that, credit cards were dished out on the pretext of boosting consumption, and transformed almost the entire country into a group of ruthless spenders. The savings rate of South Koreans has dropped drastically, and as a result the country is now finding it difficult to weather the global economic storm.
In the US, most people are addicted to credit cards and spending money they have not earned. Ironically the economic crisis has forced people to rely even more on credit cards to maintain their lifestyle, which in the first place they should not have acquired. Outstanding payment for credit cards worldwide is estimated to be more than $1 trillion and rising. Like subprime loans, card payments are also packaged in different kinds of derivatives, and when bad loans pile up, as is inevitable, another wave of financial tsunami will lash the global economy.
Credit cards are a very recent phenomenon on the mainland. The danger is here, so we have to learn from other countries' experience to avoid similar mistakes, or sooner rather than later we will be facing the same crisis. As a first step, limiting the number of cards per person to two wouldn't be a bad idea. Plus, we should pool card information for assessment of credit risks.
We have to learn to make good use of our high savings rate, instead of encouraging the middle class to buy more houses and cars, and spend like there is no tomorrow. Most of the suggested measures does not require a lot of resources to implement and, in fact, will reduce pollution. On the contrary, they will help create quality employment and generate solid GDP growth.
When welfare schemes make people feel more secure, they would be more willing to spend. The social and economic infrastructure will also ensure sustained economic growth. Proper channeling of savings into investment and social spending will enhance real private consumption in the long run. Higher savings will then imply higher investment and, in turn, higher GDP and a more robust growth. Without proper savings, a high private consumption rate will lead to disaster, as has been the case in many Western countries.
If a high savings rate is as bad as many Western economics would like us to believe, then how come we have succeeded and they have failed to weather the economic storm?
The author is a member of the Hong Kong Special Administrative Region Basic Law Committee of the National People's Congress Standing Committee
(China Daily 05/29/2009 page8)