Police will boost the muscle of chengguan (urban management officers) under a plan announced in Yantai in Shandong province.
The coastal city has established an urban management police corps in which police will assist chengguan with their law enforcement activities - a first in the country.
Quan Fuqiang, chief of the urban management administrative enforcement league of Zhifu district in downtown Yantai, said the city's police will work closely with chengguan on daily management affairs.
"The police will help improve the chengguan's law enforcing power, especially in cases of emergency," Quan told Jaodang.net.
He said urban management officers sometimes face difficulties enforcing the law, and have also faced violent retaliations from violators. "We were worried for our officers' safety," said Quan.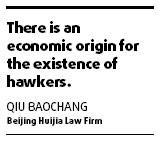 In two separate incidents last month, street peddlers in Shenzhen, Guangdong province, attacked chengguan after their stalls were removed from the city's pavements. In one of the incidents, a food vendor stabbed an officer to death.
However, chengguan in some areas have come under attack for abusing their power, with occasional media reports of city officers resorting to violence against street peddlers.
Urban management officers in Tianmen, Hubei province, reportedly beat a manager of a construction firm to death last month after he refused to delete from his mobile phone a video recording of a confrontation between the officials and locals.
The State Council, or the cabinet, started establishing urban managements departments in cities in 1996, and officially put them in operation across China in 2002.
Some Yantai residents are a little worried now that the city's chengguan has police support.
"I am afraid the police backing might make the city's chengguan a bit ruthless," a 37-year-old resident said on condition of anonymity.
Qiu Baochang, dean of the Beijing-based Huijia Law Firm, said the integration "will help maintain order, but only in the short term".
"The only solution is to improve the level of urban management," Qiu told China Daily.
"For example, there should be designated areas in every city for unlicensed peddlers to make a living, a practice adopted in New York and Seoul.
"There is an economic origin for the existence of hawkers, who earn their living and facilitate buyers with convenient and cheap purchases.
"Moreover, if street vendors disappear because of stringent administrative enforcements, there might be an increase in other social problems such as thefts," Qiu said.
In Shenzhen, chengguan are involved in maintaining the city's appearance, environment and hygiene, the gardens, scenic areas, traffic and even livestock slaughtering, a January article in the Legal Daily said.
In Beijing, the chengguan have various responsibilities including checking urban rivers and lakes, unlicensed taxis and tour guides.
"The intention was to set up a comprehensive department for administrative enforcements instead of various departments, which were previously responsible," said Jin Guokun, a professor at the Beijing Municipal School of Administration.
"One department is always better than 10 departments handling the same issue," he said.
(China Daily 05/29/2009 page4)