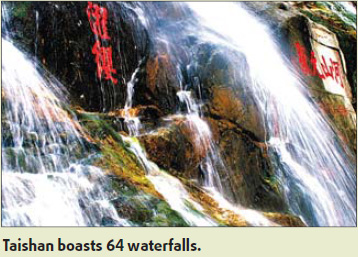 Taishan is a popular destination with Chinese and overseas holidaymakers who go not to worship as the ancient emperors did, but to soak in the ambience surrounding the mountain.
"Taishan is no longer as solemn as it was in ancient times. People come here to relax, taste local food and enjoy its unique natural and historical sights," says Liu Shui, deputy director of the Tai'an Tourism Administration.
"We are promoting Taishan and the city's unique culture attractions and hope to develop it into a recognized tourism city," he says.
Besides beefing up the mountain roads and providing easy access by cable car to the summit, a number of cultural events will be organized this year, to cater to tourists. Liu believes Taishan has the potential to attract more than two million visitors every year.
Tai'an City is also joining an effort to establish an association of world-famous mountains to promote tourism.
It will include Mount Fuji in Japan, Soraksan in South Korea, Mount Olympus in Greece and Mount Titlis in Switzerland.
Last November, a joint effort involving Taishan and Mount Fuji saw 1,500 Japanese youths visiting Taishan.
The Taishan International Mountain Climbing Festival, held every September since 1987, draws many climbers from home and abroad.
Mountain-climbing enthusiasts and mayors from cities that are home to famous mountains are expected to participate in this year's festival.
The $366m Taishan Happy World theme park is well underway and is due to open by May next year.
Ten four or five-star hotels are being built to better accommodate tourists, while the Salty Sea Health Center offers visitors a good place to refresh after a climb.
Fengshan (mountain-worship) ceremonies, aimed at spreading awareness of the culture associated with the mountain through live performances, will start in July.
(China Daily 05/28/2009 page19)