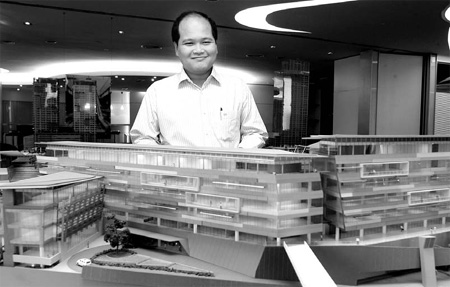 Shahril Ridza Ridzuan, managing director of Malaysian Resources, stands by a model of the Kuala Lumpur Sentral transportation hub. The company will build two office projects this year after the global recession pushed steel prices lower. Bloomberg News
KUALA LUMPUR: Malaysian Resources Corp, developer of the nation's biggest transport hub, will build two office projects valued at 1.8 billion ringgit ($517 million), gauging that property markets will revive as the global recession eases.
Malaysia's biggest office supplier expects to sign up a foreign oil company to anchor the 1 billion-ringgit tower at the 348 Sentral project in Kuala Lumpur by taking up as much as 60 percent of the building's office space, Managing Director Shahril Ridza Ridzuan said. The project includes serviced apartments.
"The global recession is not going to last forever," he said. "It's a good time to start building now. Materials prices are at a fairly low ebb of the cycle."
The company, whose shares surged 90 percent since Jan 1, plans to return to profit this year and expects to expand its order book by 50 percent to 3 billion ringgit.
The two office projects in Kuala Lumpur Sentral, an urban center built around Malaysia's largest bus and rail hub, will generate an average of 600 million ringgit a year from 2010, based on the project's total expected revenue.
The 348 Sentral development covers 1.1 million square feet (102,000 square meters) of office space. The second office project, worth 800 million ringgit, is about half the size.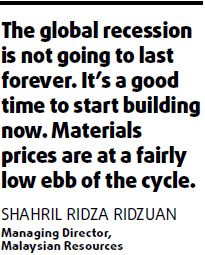 Loans approved for buying Malaysian residential property surged 49 percent in March from a month earlier, the second monthly gain, according to central bank data, adding to signs the industry may be rebounding.
Malaysia Resources expects to win 1 billion ringgit of new orders this year, with 30 percent of that coming from projects to clean up the country's rivers, Shahril said.
The company won two building contracts valued at 239 million ringgit the past two months, its first construction jobs secured this year, increasing its order book to 2 billion ringgit, Shahril said.
One of the projects includes upgrading road networks in Kuala Lumpur Sentral, funded through the government's stimulus package, he said. The government plans to spend 67 billion ringgit.
"We've definitely turned a corner from the fourth quarter last year," he said. "The rest of the quarter will show business strength."
The construction division is leading the turnaround for Malaysian Resources Corp, after surging building material prices and the worldwide economic slowdown pushed the company to losses in 2008.
RHB Research Institute Sdn recently raised its profit forecast for Malaysian Resources by 34 percent for 2010 and 36 percent for 2011.
Malaysian Resources reported a 39.3 million-ringgit loss in the fourth quarter of last year as sales slid and building materials including steel surged.
Bloomberg News
(China Daily 05/26/2009 page16)