The magic mantra of peaceful coexistence
To overcome its economic and military crises and preempt long-term risks the US should align its economic and national security with China's.
David Shambaugh, of Brookings Institution, wrote in "Task ahead for China, US: Maximum cooperation" (China Daily, May 6, 2009) that President Barack Obama seeks to alter the modalities of strategic dialogue to pursue a broader strategic agenda in order to seek solutions to the global financial and security crises, climate change, and holdover issues from the Bush administration such as the Democratic People's Republic of Korea, Iran non-proliferation, value of the yuan, trade deficit, intellectual property rights and human rights. Shambaugh wrote: "One challenge for the new administration will be to prioritize the issues on the agenda, although all of them must be pursued simultaneously."
How can the Obama administration achieve that? Obama and President Hu Jintao can bridge the perception and communications gaps by agreeing in September to align their countries' economic and national security. That would be a shot in the arm of the global economy and can help overcome the economic crisis.
Fortunately, many Chinese policymakers consider the alignment necessary, and they include Hu and Premier Wen Jiabao. On the other hand, an alignment is still unthinkable for many US policymakers and statesmen. If an alignment is to be achieved, the US has to alter its economic and foreign policies and defense strategy.
First, Obama has to abandon policies toward China that are based on the conventional American "clash of civilizations" mindset and instead accept China's "collaboration of civilizations" view.
China has been following the Five Principles of Peaceful Coexistence for almost six decades. For the past 30 years, its foreign policy has facilitated its fast economic growth. It has helped the US economy, too, but Americans generally tend not to recognize it.
Second, Obama has to decide whether the US foreign policy and defense strategy, designed to safeguard its economic and national security by being ready for a military conflict with China, has any basis.
It is difficult to believe that 302 million Americans' economic and national security can be ensured if 1.3 billion Chinese in the third largest and still fast growing economy are insecure. If Obama thinks preparing for a military conflict is counterproductive to American interests he should change the policy.
That is exactly what Deng Xiaoping did after becoming China's leader in 1978. In fact, every Chinese leader since 1949 has hoped for but not been able to strike a strategic partnership with the US, even though peaceful coexistence is an economical and effective way to safeguard Washington's economic and national security. Few, if any, major global problems can be solved if the US and China do not align their economic and national security.
Third, Obama could accept Hu's and other Chinese leaders' offer of a "win-win" economic and military relationship, based on mutual respect, reciprocal economic exchange and beneficial solutions.
Unfortunately, conventional US "clash of civilizations" and "zero sum game" views have led past US administrations to propose that China implement domestic and international policies that don't benefit the Chinese and could even be detrimental to their economic and national security needs. The fact is that neither the largest nor the third largest economy can threaten, force or fool others into implementing proposals that are not mutually beneficial.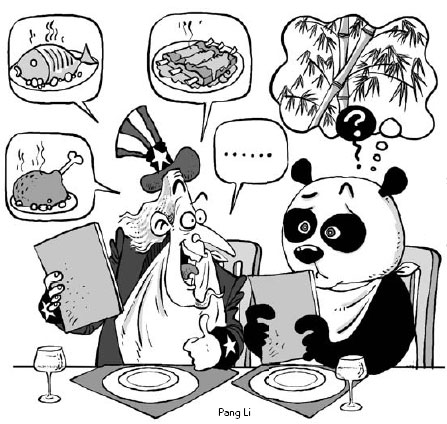 Fourth, Obama has to decide whether the US system of government and its people are capable of coexisting peacefully with the most populous and in many ways very successful Chinese civilization and system of government.
The US foreign and defense policies toward China are not based on mutual benefit, mutual respect for sovereignty, territorial integrity, non-aggression and non-interference with one another's internal affairs, which form the Five Principles of Peaceful Coexistence.
Many Americans are still skeptical of China's economic success and geopolitical influence. The skepticism would seem rational only if one believed that the US cannot "win" unless China loses and that the US can win only if China's economic and national security suffers a catastrophic failure. Belief in such "zero sum" game by US policymakers is not objective or prudent. The two countries can be ensured of their economic and national security only if they avoid political chaos and align their economic and national security.
Fifth, the US president has to lead his policymakers and people into accepting reality: that US heritage, culture, and political, economic, social, legal and philosophic traditions are not going to become identical to those of the Chinese people. Similarly, he has to convince them that they should not expect the Chinese to copy the Americans and unilaterally implement policies beneficial to Washington.
The exceptional nature of the US political system, rule of law and definition of human rights has taken 200 years to evolve. Its political, legal and human rights systems are not the same as China's. The priority of the Chinese government and people is to achieve economic progress, maintain national security and avoid political chaos, developments that caused havoc in the country in earlier centuries.
The US, too, should make economic progress and national security its priority instead of trying to make others follow its political and legal systems, especially because of the Bush administration's economic, military and human rights record. The US system is exceptional because it is tolerant toward the rights and opinions of others. Hence, Obama could impress upon Americans to respect China's move toward self-determination.
If the US alters its foreign policy and accepts China's Five Principles of Peaceful Coexistence it would be going a long way in convincing China to effectively promote some of the elements of American policies.
Obama and other US policymakers could decide that US economic and national security requires or permits reciprocating China's principles of peaceful coexistence in order to align Sino-US economic and national security. He can fall back on 30 years of evidence to tell Americans that the Chinese government and people have always reciprocated US gestures.
The five shifts in US policies, suggested above, could form the basis of a grand new strategy and agenda for global peace and security, and help Obama and Hu to resolve issues through Sino-US Strategic and Economic Dialogues. Anything short of that would leave many a problem - like the global economic and other crises - unsolved.
The authors are associated with the Center for America-China Partnership, and have among others penned The White Paper for the Presidents of America and China, and China & America's New Economic Partnership, published in the US and China in English and Chinese.
(China Daily 05/26/2009 page9)
Today's Top News
Editor's picks
Most Viewed