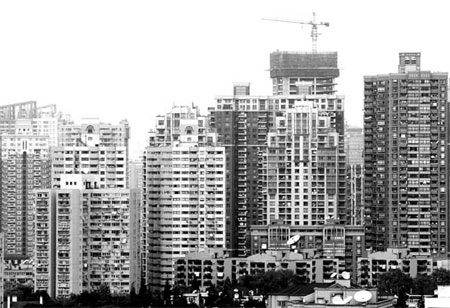 A property project in Changning District, Shanghai. Xinhua
SHANGHAI: In April, nearly 29,000 second-hand flats changed hands in Shanghai, hitting a record high since 2006 for a single-month transaction in the city's secondary market. But experts said the explosive trading volume resulted from several factors, and should not be seen as the signal of a broad rally.
Figures from housing consultancy E-house China show that 28,600 old flats were traded in Shanghai in April, up 11.3 percent month-on-month and up 101.4 percent over the same period in 2008. The average housing price stood at 11,674 yuan per sq m, up 4.3 percent from March, and gaining 993 yuan per sq m over 2008.
Latest statistics from the People's Bank of China (PBOC)show that in April, personal housing loans from local banks increased 3.39 billion yuan, the highest monthly growth in 16 months. Among the increased loans, as much as 2.63 billion yuan goes towards secondary housing market, up 390 million yuan over March.
The remarkable increase in mortgage loans is a direct result of the burgeoning transactions in the housing market, said PBOC.
"The augmented trading volume came mostly from pent-up demand amid heightened fears of a global economic downturn since late last year," said Chi Shengyu, analyst, Shanghai Existing Property Index Office (SEPIO).
According to Chi, the existing property price index is edging close to last September levels. "Apart from the increased demand, transaction of high-end properties, like Yanlord Town and Shimao Riverside Garden, which sell at 22,000 yuan per sq m and 30,000 yuan per sq m respectively, have directly pushed up the average prices," said Chi.
Nearly 70 percent of the traded flats were bought by married youngsters, and those seeking better living conditions, said Huang Hetao, analyst, Century 21 China Shanghai. "Usually, transaction procedures in the secondary housing market take nearly one month to complete, so as early as March, buyers were coming back into the market," Huang said.
"This could explain why we saw a 10 percent drop in trading volume in April, but the figures showed an opposite trend. The transaction decline will start to show in May," said Huang.
Although Chi said buyers still have enough time to enter the market, he said the fundamental trend in Shanghai housing market has been improving. "Massive reconstruction and newly built infrastructure started since last October for the upcoming World Expo 2010. The construction boom will trickle down to the property market, too. The government's tax cuts on house purchases and lowered mortgage rate for first home-buyers, will also help boost demand," said Chi.
Statistics from China Real Estate Index System (CREIS) indicate that in April, a total of 24,065 new flats were sold, up 73.59 percent year-on-year, a record high since 2005, showing a similar trend.
To give further impetus to the realty market, the Nanhui District has been given the clearance to merge with the Pudong New Area, to create a super-size economic powerhouse. "In the short term, the property in and around Anhui will be in demand, but over the long term, housing prices will hinge on the location and the quality of property," Chi said.
(China Daily 05/15/2009 page14)