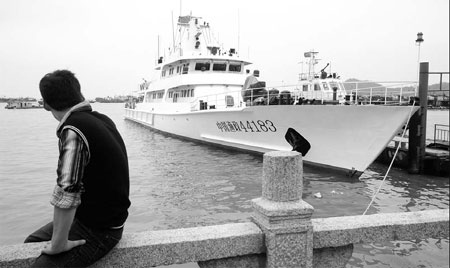 A man looks at Guangdong's largest fishing patrol ship China Yuzheng 44183 anchored at a dock in Zhuhai yesterday. Li Jiansu
ZHUHAI: China is sending another vessel to patrol the Xisha Islands in the South China Sea.
China Yuzheng 44183, the largest fishery administration vessel in Guangdong province, will set sail Saturday.
The patrol is China's latest response to the increase of illegal fishing and territorial claims by other countries of the islands in China's exclusive economic zones, noted a researcher with Guangdong Academy of Social Sciences.
"The waters of the South China Sea are by no means calm these days, with some neighboring countries claiming randomly one island or another there as their own territory," said the researcher, who preferred not to be identified. "That, together with rampant illegal fishing in the zones, makes it necessary and urgent for China to strengthen fishery administration patrols there."
The Xisha Islands are about 180 nautical miles south of Hainan Island.
Similar to March's voyage of China Yuzheng 311, the nation's largest fishery patrol ship, the journey will take about half a month, said Yu Zhixing, director of the provincial fishery administration division's Zhuhai detachment.
The vessel will stop over at Sanya on the southern tip of Hainan Island before joining other patrol vessels. Its destination is Yongxing Island in the Xisha Islands.
"The vessel will patrol the waters of China's exclusive economic zones, protecting the interests and safety of Chinese fishermen, striking against illegal fishing vessels and reinforcing the protection of China's fishery in the waters," Yu said.
China Yuzheng 44183 is equipped with an advanced navigation system and other advanced facilities including seabed photographic equipment.
In mid-March, China Yuzheng 311, arrived in the Xisha Islands in the South China Sea, patrolling the waters of China's exclusive economic zones, including the Nansha, Xisha and Zhongsha Islands.
(China Daily 05/15/2009 page2)