Though the cost of living declined last month in China, a majority of the citizens are yet to feel the impact of the same in the retail market, while retailers have said their profit margins have been squeezed.
The Consumer Price Index (CPI), which measures a typical basket of goods bought by consumers, fell 1.5 percent year-on-year in April, a decline of 0.2 percent compared with a month earlier, said the National Bureau of Statistics yesterday. The major gauge of inflation has so far seen year-on-year slides for three consecutive months now.
"I don't feel like I have spent less money now," said Kong Jianmin, a 38-year-old housewife, in a five-member household.
The family, with a monthly income at 30,000 yuan, lives in the Wangjing area - a middle-class community in northeastern Beijing, and owns a Honda CRV, a sports utility vehicle known for its spacious interiors and energy-saving characteristics.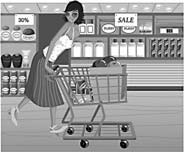 Kong is patron of Wal-Mart and Carrefour where she found price tags being changed frequently in the recent months.
"However, when pork prices slumped, that of vegetables and fruit rose. When household paper costs rose, detergent prices did not become cheap," said the housewife, adding that prices have more or less been at the same levels, instead of declining.
But Sun Jian, her husband, indicated that fast food and eating outside have become cheaper. Echoing similar vierws, a manager in a foreign consulting house, said he has his lunch at Chinese fast food chains like Yonghe King and Kungfu.
"Prices of fast food have plummeted 10 to 20 percent on an average. So by spending 10 yuan one can even get a set menu in Yonghe King now," he said.
"Consumers having different feelings on the fluctuation of prices is understandable, as the CPI is a combined index and the ups and downs of product prices in various categories are not the same," said Xiao Maosheng, consumer market analyst, Guodu Securities.
Food prices dropped 1.3 per cent year on year last month, with meat and poultry prices falling 13.5 percent, while vegetable and egg prices rose 10.9 percent and 5.5 percent respectively. Garment prices declined 2.5 percent.
Prices of some commodities and services have, however, risen slightly. For example, medical and healthcare products and services witnessed year-on-year increases of 0.9 percent last month.
"The price drop in fast consuming products is not as steep as that of durables," said Xiao, explaining that consumers are expecting further price drops in non-daily necessities.
The most noticeable impact has been on the prices of entertainment durables like television, video and audio products, which slumped 10.1 percent year on year.
A marketing manager surnamed Jiang of a Sunning Appliance store in northern Beijing told China Daily that television sales slumped this year despite a slight rebound during the May Day holidays.
"Though the rebound was stimulated by sharp discounts and traditional holiday consuming enthusiasm, our profits declined," said Jiang.
Liu Jianqun, strolling in the store yesterday, said he was looking around to see if he could buy a high-end television. Large-sized flat panel televisions, priced at 13,000 yuan to 16,000 yuan at the beginning of this year, were being sold for around 10,000 yuan yesterday in the store.
"I am not in a hurry," said Liu, when knowing the CPI has further declined. "I am going to wait till prices driop further," he said.
(China Daily 05/12/2009 page14)