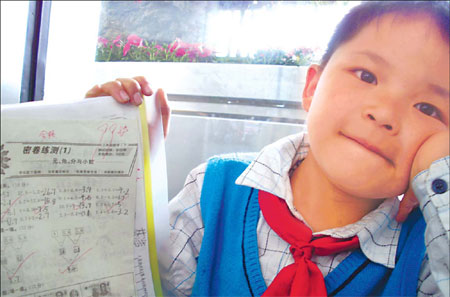 Lin Hao, quake hero-turned-movie star, proudly shows an A+ paper from his most recent exams. His debut CD was released yesterday. Chen Jia
At first glance, he seems like any other 10-year-old boy who's fallen asleep on an airport-bound bus. Nudged from his dreams, he yawns, almost starts to pout - until fellow passengers produce cellphones and begin snapping pictures. He quickly rouses himself and responds with big, friendly smiles.
The youngest of China's "quake heroes" to emerge from last year's disaster, Lin Hao may still not be entirely comfortable with the media.
But he is no longer camera shy.
One year ago, Lin was just another kid from an impoverished home in Sichuan's Zizhong County. There, one's best bet for a photo shoot was for a Hope Project publication, or a charity brochure.
Not any more. Last month, Lin caught a weekend flight to central China's Henan province for his third television role, a sitcom named Stories at the Nurse Station.
"I play a boy named Guai Guai. His father has a part-time job and is never at home. That's just like my family," Lin told China Daily.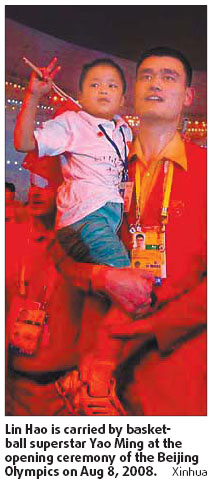 A Grade 2 student at Yingxiu Yuzixi primary school in Wenchuan county when the earthquake struck last May, Lin pulled two of his classmates from the rubble after escaping from a collapsed classroom with a head injury that required a hair transplant.
For that act of courage, he was named a "heroic youth" along with 19 other youngsters last June in recognition of their involvement during quake relief.
Lin then become a national hero - or, in the words of some media, "China's youngest hero". A People's Daily Online comment praised him as a "representative of the perseverance of the Chinese nation".
He was taken to Shanghai for treatment and given a free hair transplant at a military hospital. Soon after, the adorable boy was handpicked to walk with China's NBA superstar Yao Ming, who led the Chinese delegation at the opening ceremony of the Beijing Olympics.
Lin has gone on to make TV appearances in Shanghai's Mid-Autumn Festival celebrations, Beijing's National Day party and China Central Television's Spring Festival Gala, in addition to roles in two movies.
Before his flight to Henan, the boy couldn't wait to see actress Zhou Yanhong, who plays his mom in the sitcom.
The pair got to know each other at a charity gala in Beijing last June. Reports say it was Zhou who introduced Lin to the sitcom's producer.
The boy's father, Lin Dakun, said the family agreed to let the child act only because the sitcom touches on stories about the days following the earthquake.
"We didn't ask for a penny from the producer, and Lin Hao could finish it during weekends," he said.
Dad doesn't want his son to become "a commercial star". According to him, Lin has turned down quite a number of offers, including one from a foreign chocolate maker that promised 500,000 yuan ($73,240) for appearing in an advertisement.
The family stayed in Shanghai, where Lin recovered and went to school for a semester, but moved to Chengdu earlier this year because of the high cost of living in the eastern metropolis. Lin has been enrolled in Chengdu's Yandaojie primary school since spring.
Lin's father, who works at a construction site, says he is the family's sole breadwinner. The boy's mother quit her job and is now a full-time housewife.
"I earn just more than 2,000 yuan a month. I can't manage to save any of it," his dad told China Daily.
The young quake hero, meanwhile, says he has no pocket money, although his parents have allowed him to keep presents from kindhearted people and friends who met him after he became famous.
The presents range from clothes, bags and CDs to just plain cash, but Lin, with no personal computer, said he has no idea about what is on the CDs.
Luo Xiaohang, headmaster of Yandaojie primary school, told China Daily that the school has refused all media interviews and photo shoots with Lin during school time.
A gatekeeper at the school said: "Lin Hao is a polite boy. He says 'morning, uncle' to me every day. But he never seems like he wants to talk to venders around the school or any passersby who recognize him."
The third grader is trying his best to catch up with his classmates in studies, and speaking English has emerged as one of his favorite activities at home.
"I like speaking English my zodiac sign is 'tiger' in English, daddy's is 'monkey' and mommy's is 'cow' the movie I just watched is called Kung Fu Panda in English," Lin told China Daily. (He hopes to learn kung fu from Jackie Chan, but may have to settle for a class he had with the action star's apprentice.)
"I also know the creature that swims in the river near my home in Yingxiu is 'fish' in English".
Memories of his home in Yingxiu and its destruction always remain close to the surface, yet like many other "earthquake celebrities," Lin has distanced himself from public recollections of the disaster.
He did, however, head back to Yingxiu during the Qingming Festival last month to mourn his classmates who died in the tremor.
The mountains there now, he said poetically, "are like they've been clawed by eagles".
And like the defaced mountains, the life of this boy, and those around him, will never be the same. Following the tragedy of that day, the powerful, spontaneous and prevalent media coverage has changed Lin in ways the boy could never have imagined.
The overnight fame has unmistakably turned him into a premature idol, foisting on him all the downsides of fame as well - like inescapable media exposure.
As his bus pulls into the airport, a gaggle of reporters prepares to pounce. He tries to evade them by ducking into a washroom. Yet when he emerges, the TV camera is still there.
"I don't like repeating the same answers to the same questions and I don't understand why some people would wait outside the toilet when I hide in there and say 'no'," Lin said, hiding his face from the camera.
Seems like he's already picked up a few tips on how to handle the paparazzi.
So what does the future hold for the budding superstar?
"Acting on TV is interesting but playing with my classmates in school is much more fun," the boy said.
Spoken more like any 10-year-old boy rather than a national hero. And maybe that's just the trait that's propelled him to fame.
(China Daily 05/12/2009 page27)