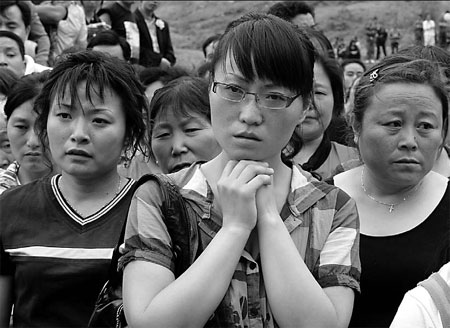 People pay their respects to dead earthquake victims in Beichuan, Sichuan province, yesterday, one day before the first anniversary of the disaster which claimed nearly 90,000 lives. Xu Jingxing
A new earthquake alert system could save lives by providing people with advance warning.
Though the system is still experimental, it could give enough time to reduce casualties, said Du Wei, deputy director of the Earthquake Defense Department of China Earthquake Administration.

The announcement was made the day before the first anniversary of the Sichuan earthquake.
The country has set up more than 2,200 fixed earthquake monitoring and observation stations and more than 5,000 mobile ones to acquire punctual monitoring information, according to the White Paper - China's Actions for Disaster Prevention and Reduction.
Other investments include more than 400 million yuan ($58.4 million) on an earthquake exploration project.
Since last November, China has dug four deep wells in the Longmenshan area to explore and observe the Wenchuan earthquake belt to collect information for earthquake and aftermath research.
The Sichuan quake that led to enormous numbers of deaths and casualties has caused heated debate on whether earthquakes can be predicted with enough accuracy to reduce losses.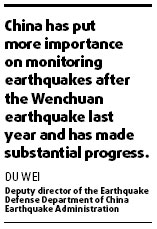 "China has put more importance on monitoring earthquakes after the Wenchuan earthquake last year and has made substantial progress," Du said.
The earthquake facilities are a key part of the country's three-part system to improve monitoring and warning capacity through land, sea and air observations, said Zou Ming, director of the disaster relief department of the Ministry of Civil Affairs.
Zou said the ministry has strengthened disaster contingency and preparedness measures, revised the National Natural Disaster Rescue Contingency Plan, drafted the country's first disaster rescue regulation and ordered its implementation at various levels, including communities.
"Disaster reduction lies in the community," Zou said.
"Only by improving capacity at the community level can the effect of disaster be reduced."
On June 1, the ministry will launch a county-level disaster loss calculation software system and enhance the rescue material reserve system.
The ministry is training 300,000 disaster information officers at grassroots levels in two or three years, with pilot projects in 13 provinces this year, Zou said.
(China Daily 05/12/2009 page2)