With Jet Li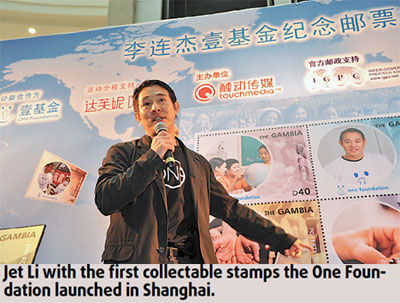 Thousands have been inspired by Jet Li's rags-to-riches tale as he rose to become one of Hollywood's kungfu legends. Now he hopes to teach his fans a new lesson about giving.
The kungfu star turned philanthropist said he hopes his One Foundation charity, established in 2007, will help further promote the idea of public welfare among both corporate enterprises and everyday citizens in China by encouraging people to donate for the greater public good.
To build more momentum on the issue, Li was recently in Shanghai, where he teamed up with local advertising company TouchMedia to launch a series of charitable collector stamps.
Li shared his vision and understanding about charity work in China with Shanghai Star Weekend reporter Ma Zhenhuan.
Q: How will your One Foundation commemorate the one-year anniversary of the May 12 earthquake in Sichuan?
A: We will launch a large-scale public welfare campaign called One Family, Walk Together in May, in which the foundation will bring people to visit Sichuan a year after the deadly quake.
We are also working on an online computer game that enables people worldwide to register and take part in a virtual tour of Sichuan.
Q: Who is your greatest hero?
A: I most admire Li Shizhen (a highly influential Chinese traditional medicine doctor, who published the revered text Bencao Gangmu, or Great Compendium of Herbs, over 400 years ago). I really admire those who can sacrifice their own good to benefit future generations.
But I think the term 'hero' refers to someone willing to sacrifice their own life to protect others in times of crisis. Imagine if we lived in a harmonious society where no war, terrorism and disasters ever existed. The emergence of the word 'hero' would then be unnecessary. So, in this sense, a time without heroes would be much better.
Q: What do you think of charity work in China?
A: The charity sector's development in China is quite recent compared to the US, where it has been registered for 100 years, or 400 years in the case of Europe. Most people in China today think that charitable acts are limited to donating money, but that's actually not the case.
What makes One Foundation different than other charities (in the country) is that we are opening up a new corporate enterprise mode for non-governmental charities in China. We are running the foundation as a business (with its own culture, branding, positioning and operational management), but taking the public's interest into account as our utmost concern.
Q: How do you find a balance between your role as a philanthropist and as a Hollywood star?
A: For me, charity is the undertaking of my life, whereas being a kungfu star is just a hobby.
Q: What's your vision of the future for One Foundation?
A: In Asia, many charities have been launched by enterprises or by wealthy families. As a platform for all, One Foundation is different, and I hope it will continue to do good work in the long term, even when its time surpasses me, its founder.
(China Daily 05/08/2009 page14)
Today's Top News
Editor's picks
Most Viewed