CLEVELAND, Ohio: Alone under his basket, LeBron James braced himself for Atlanta's onslaught.
As two Hawks swooped down on a fast break, James held his ground, stepped in front of Joe Johnson and took the charge.
The only play. The smart play. A game-changing play.
MVP. Indeed.
James dunked the first time he touched the ball and scored 34 points - 22 in the first half - as the Cavaliers, who waited nine days between playoff games after a first-round sweep, shook off some early rust and pulled away for a 99-72 win over the Hawks in their Eastern Conference semifinal opener on Tuesday.
In the Western Conference, the Denver Nuggets beat Dallas 117-105 despite 35 points from the Mavericks' Dirk Nowitzki to take a 2-0 lead in their semi-final series.
Cleveland's James, who beat the Los Angeles Lakers' Kobe Bryant and Dwyane Wade of the Miami Heat for the MVP honour on Monday, also had 10 rebounds, four steals and three assists as the well-rested Cavs turned around an early five-point deficit.
James was presented with his MVP trophy before the game by league commissioner David Stern, who complimented the 24-year-old superstar's selflessness.
Stern's praise was nearly drowned out by more than 20,000 fans chanting "M-V-P".
"It was unbelievable how sharp we were," James said.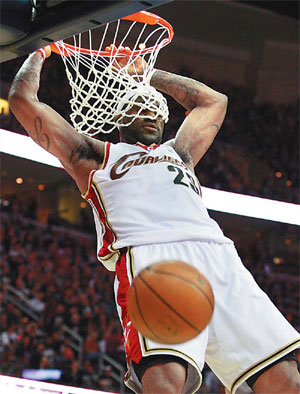 Cleveland Cavaliers LeBron James dunks against Atlanta Hawks during the second half of Game 1 of their NBA Eastern Conference semifinal playoff game in Cleveland, Ohio on Tuesday. Reuters
James had 16 of his points in the first quarter, which helped the NBA's top regular-season team open up a lead that was never threatened.
"I felt good in warmups and felt good all day, honestly," said the All-Star forward, who displayed his MVP trophy to cheering fans during a pre-game presentation with NBA Commissioner David Stern.
"I didn't want to settle, I wanted to get a good flow for us on the offensive end."
Leading 49-44 at halftime, Cleveland then turned up the pressure to outscore the Hawks 50-28. The visitors scored just 11 points in the fourth quarter.
Mo Williams added 21 points and Delonte West had 13 for the Cavaliers, who host Game Two on Thursday.
Josh Smith had 22 points for Atlanta and Mike Bibby contributed 19.
"We competed for a half, but that wasn't good enough," said Hawks coach Mike Woodson.
Cleveland had not played since April 26 after sweeping the Detroit Pistons 4-0 in the opening round of the playoffs.
Atlanta were taken to a deciding Game Seven by Miami before winning the series on Sunday.
Denver's Carmelo Anthony scored 15 of his 25 points in the fourth quarter to help the Nuggets break open a tight game.
"Right now our team has a way of elevating (their play in the closing quarter)," Nuggets coach George Karl said. "(But) for three quarters, at least the second and third quarters, Dallas was a better basketball team today."
Nene, Denver's Brazilian center, also had 25 points and J.R. Smith added 21 to help the Nuggets improve to 6-1 in the postseason.
Jason Terry provided 21 points for Dallas, which hosts Game Three on Saturday.
Reuters
(China Daily 05/07/2009 page24)