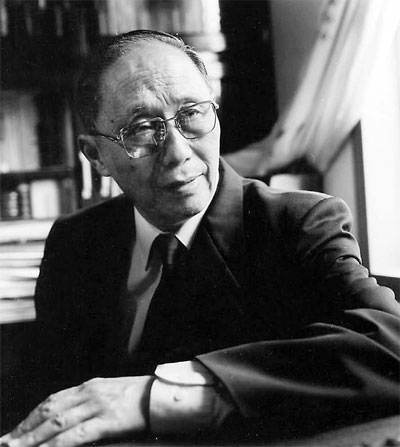 Former president of Wuhan University Liu Daoyu. Courtesy of Liu Daoyu
He is hard of hearing and his right hand shakes. But Liu Daoyu, in his seventies, still works four hours a day, offering his thoughts on the weaknesses of higher education in China. His latest bombshell was a 7,000-word thesis in China's most influential newspaper, Southern Weekend, in which he called for an overhaul of the country's growing number of universities.
The former president of Wuhan University, or Wuda, is convinced that education should be based on mankind's ultimate values and stripped of bureaucratic interference. "China's education awaits a movement of enlightenment," he says, sitting in his humble university residence.
Born in a village in northern Hubei province, Liu studied chemistry in Wuda in 1953, aspiring to become China's Alfred Nobel. "Nobel's story implanted a seed of innovation in me when I was just 14," he recalls.
Before 1949, Wuda was ranked as one of the top five universities in China, on a par with the universities of Peking, Tsinghua, National Central (Nanjing) and Zhejiang. But a fast decline set in after 1953, in the wake of Left dominance. "Professors were caught with a sense of terror, some of them sent to the gymnasium to receive physical punishment, and nobody was in the mood to pursue research," Liu recalls.
In the next few years, Wuda became a hotbed of factionalism, "a cart pulled by an old ox", as Liu puts it. It slid to the 22nd of the 23 universities under the supervision of Ministry of Education (MoE). After graduating in 1957, Liu became a chemistry lecturer. The university sent him to pursue organic fluorine studies at the Soviet Academy of Sciences in the spring of 1962.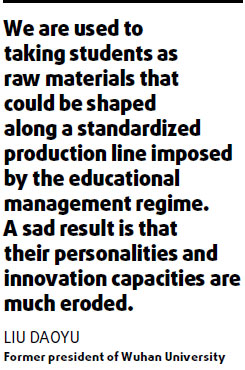 "Unlike what I expected, postgraduate studies in the former Soviet Union were conducted in a markedly independent and democratic way. I was neither required to register for any compulsory course nor sit written examinations. I only had to produce an original thesis."
Liu attributes the academic freedom under Big Brother's vigilant eyes to Russia's western cultural background, which "tallied with my personality as well".
In 1973, after 10 years of teaching in China, he was singled out as deputy party chief of Wuda, transferred four years later to Beijing as chief of the MoE's higher education department.
He resigned in 1979, wishing to go back to his alma mater, Wuda, to "end the shameful record and restore its past glory".
In the next three years, Liu refused offers to hold posts of the secretary general of the Chinese Communist Youth League, education minister and the mayor of Wuhan.
In 1981 Liu was named president of Wuda. In the prime of his life, the young leader was greatly encouraged by Party Secretary General Hu Yaobang, who said while "the process of reform allowed for errors" it was far more desirable than not reforming at all.
After consulting with more than 30 academics, Liu concluded that Wuda's stagnancy was due to the Leftist road taken and barring scholars from outside. "'Close breeding' impedes innovation. Meanwhile, we must lift the screws on people's minds and tap into their initiative and enthusiasm."
Wuda went through a massive overhaul, including the introduction of academic credits, double majors, a tutorial system and major transference, none of which were tried in China's universities since 1949.
The most astounding policy was to abolish political instructors, a practice introduced in the 1960s when "class struggle" was the dominant theme. "Obviously, such a practice was already out of date, so we cut it off," Liu says.
As part of the reforms, a teacher would allow a student to not come, but not come late; allow him to read other books in class but not talk; allow him to snooze, but not snore.
"The message is clear: teachers should improve their lecturing skills rather than imposing penalty points in a harsh way. On the other hand, the students have freedom, but not at the expense of sacrificing others' interests," Liu summarizes.
In the wake of the sweeping change in China in the 1980s, Wuda saw the mushrooming of more than 400 student societies catering to their interests, including a Nazi research association with the aim of examining history to prevent such tragedies from being repeated. Some students set up a happy college, where elites from different departments gathered together for inter-disciplinary discussion of advanced subjects. "Cramming was not encouraged," Liu says.
Within a few years, Wuda was recognized as a special zone in China's higher education sector, "because we infused a spirit of openness and democracy into the campus," Liu says.
Liu's bold reforms made students from prestigious universities like Peking, Tsinghua and Science and Technology of China apply to transfer to Wuda.
In 1985, Wuda bagged nine first prizes in the national academic competitions and rose to the second rank in MoE-supervised universities, second only to Peking University.
Liu was taken unawares when on March 6, 1988 the ministry removed him from his post on the grounds of "routine election". But during the 1980s, all the university heads were appointed rather than elected.
Bidding farewell to the presidency, Liu's thoughts were even then concentrated on educational reform. "The lack of a systematic theory guiding education is what dogs the system. Meanwhile, very few people dare to make real experiments in education," he said.
"Worldwide, there are three leading schools of educational thought: John Dewey's pragmatism, Jean-Jacques Rousseau's naturalism and J.A. Comenius' anti-intellectualism, but where is China's contribution? Even Confucius failed to come up with a principal theory."
Initially, Liu wanted to set up a private college. "But I curry no favor with officials, make no social connections and offer no bribes, so I failed."
He headed an experimental foreign language middle school named New Century. He would travel 70 km to the school on the outskirts of Wuhan every day, to teach. But the school went bankrupt in 2000, and had to be closed down.
In the past decade, Liu shifted his focus to theoretical research in higher education. Last December he wrote a paper on education in China since 1978, when the government took the road towards economic reform. Liu criticized the government for replacing reform with unchecked development.
"China boasts the biggest college population, the largest campuses and is the second biggest academic paper generator in the world, but it can barely foster a world-class scholar or a school of thought.
"We are used to taking students as raw materials that could be shaped along a standardized production line imposed by the educational management regime. A sad result is that their personalities and innovation capacities are much eroded," he sighs.
Liu feels higher education should be left to educationists and that universities should strive to maintain its academic freedom, independence and truth.
He noted that the Southwest Associated University in the 1930s generated 172 academics and two Nobel Prize laureates (Tsung-Dao Lee and Chenning Yang) at the time of WWII. "The miracle simply lies in the freedom it enjoyed," he says.
"As the philosopher Kant said, enlightenment is man's emergence from his self-imposed immaturity," Liu says, looking beyond the cherry trees atop the Luojia Mountain. "Higher education in China is in need of genuine reform, right now."
(China Daily 05/07/2009 page20)