MUKHROVANI, Georgia: Georgia said it put down a mutiny at a military base yesterday and accused Moscow of financing a coup on the eve of NATO war games in the former Soviet republic.
Russia, which fought a war with Georgia last year, denied any involvement and said President Mikheil Saakashvili was trying to shift the blame for his domestic problems.
Georgia's opposition said the incident was "a show" to deflect attention from protests against the president.
Saakashvili called the rebellion at the Mukhrovani tank base a "serious threat". Police kept reporters at a distance and it was not clear how many of the 500 soldiers there were involved.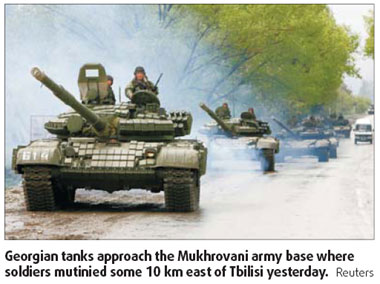 About three hours after news broke of a military uprising, around 30 tanks and armored personnel carriers entered the base, followed later by Saakashvili and the ministers of defense and interior, a reporter said.
Officials said officers had surrendered and their commander had been arrested.
Earlier, Russia's Interfax news agency said Mukhrovani base commander Mamuka Gorgishvili had made a statement criticizing Saakashvili's government but pledging not to use force.
"One cannot look calmly at the process of the country falling apart, at the ongoing confrontation. But our tank unit will not resort to any aggressive actions," the agency quoted Gorgishvili as saying.
Defense Minister David Sikharulidze said the plotters wanted to undermine month-long NATO exercises beginning this week in Georgia which Russia has criticized.
Sikharulidze told Rustavi 2 television the rebellion was also "an attempt at a military coup". Saakashvili accused the plotters of links to Moscow and demanded neighboring Russia "refrain from provocations".
Accusations insane: Russia
Russia said the Georgian accusations were insane.
"Today what is happening is what we have always feared - the Georgian leadership are trying to shift their domestic problems on to Russia," Russian Deputy Foreign Minister Grigory Karasin told reporters.
"Instead of dialogue inside the country, the Georgian leadership is trying to accuse Russia of totally insane things."
Military experts in Tbilisi suggested the rebellion could be linked with plans to use troops to end weeks of opposition roadblocks that have paralyzed Tbilisi, and that some officers had refused to participate.
"This chimes with what we are hearing from military sources," a senior Western diplomat said.
The Georgian Interior Ministry said several former and serving security officials were being investigated, and at least one was detained.
Georgia lost a brief war against neighbouring Russia last August. Russia crushed in a matter of days a Georgian assault on the rebel pro-Moscow region of South Ossetia, drawing criticism from the West for a "disproportionate" response.
The conflict slammed the brakes on Georgia's bid for membership of NATO, which the Kremlin fiercely opposes as an encroachment on its traditional sphere of influence.
The NATO exercises from today to June 3 are a gesture of solidarity for Georgia, which sits at the heart of a region crucial for energy transit from the Caspian Sea to Europe.
Around 1,000 soldiers from more than a dozen NATO member states and partners will practice "crisis response" at an army base east of Tbilisi, around 70 km from the nearest Russian troop positions in breakaway South Ossetia.
Opposition protesters blocking streets in Tbilisi are demanding Saakadhvili resign over his record on democracy and the war, and said yesterday they would broaden street blockades to the main east-west highway and entrances to the capital. Yesterday they postponed new roadblocks for several days.
Reuters
(China Daily 05/06/2009 page12)