XI'AN: More than 70 percent of ancient buildings in Xi'an are under attack from termites, posing a long-term risk to the city's heritage, it was revealed yesterday.
Pest control teams are already at work to battle the bugs in Huajuexiang Mosque, built in 742 during the Tang Dynasty (618-907), and Baxian Temple, which dates back to the Song Dynasty (960-1127), said local authorities.
Termites, also known as white ants, feed on dead materials such as wood and can cause serious structural damage to buildings.
"We have received more than 3,000 calls from local residents about white ants since March 28," Gao Lianggang, director of Xi'an termite prevention and control institute, said.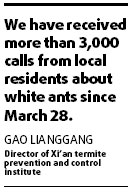 "We use special drugs to kill the white ants and we also treat buildings that are not infested to protect them from the insects for a year or two."
Hu Chenglin, head Taoist priest at Baxian Temple, said the site has suffered for more than five years with termites, which experts said usually spread when the pests fly to other buildings during hot and wet weather, particularly during the months of April and May.
Xi'an is one of the country's most famous cities and served as capital for 13 dynasties.
It has 24 ancient buildings in its downtown area, all of which were built in the Tang and Song dynasties.
"Seventeen of the 24 ancient buildings have been reported to be infested, to some extent, with white ants, including the Dayan Pagoda (built in 652) and Bell Tower (built in 1384)," said Gao, who added that his office has had dealt with pests at historic structures every year since 2004.
Sun Fuxi, deputy director of Xi'an municipal administrative bureau of cultural heritage, said it would be a long-term fight to rid all of the city's ancient sites of the insects but assured every effort was being made by the authorities and management at the various buildings to quell the potential danger.
(China Daily 05/05/2009 page5)