The Sydney Opera House will feature a Tibetan red-color scheme in its proposed $600 million makeover, adding to an array of other little-known Chinese architecture elements already used in the iconic structure.
The interior renovation plans, which were revealed in Australia recently, will include original design concepts architect Jorn Utzon had planned more than 50 years ago before he famously walked out midway through the project.
Utzon died last November, aged 90, and at a special memorial service in Sydney for the Danish architect last month, an image of his Chinese "festive red" interior design for the opera theater was unveiled.
"For the last 10 years he was working on new designs and was re-introducing his original Chinese idea," said Adrian Carter, director of the Utzon Center in Denmark. "Sometime in the future, the Sydney Opera House interior will be more like this.
"He was fascinated by the very vibrant, dramatic colors used in China architecture. His interior is very festive and very alive."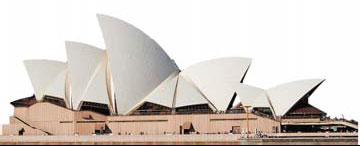 Carter, who was in Beijing this month lecturing to architecture students, said the Sydney Opera House was arguably the most famous building of the 20th century, but very few people know Chinese design principles were its inspiration.
These include the "floating effect" used for buildings in the Forbidden City and set-piece construction promoted in a 1,000-year-old Chinese building manual.
Utzon was first introduced to Chinese architecture as a student when he picked up an illustrated copy of the Song-Dynasty (960-1279) building manual Ying Tsao Fa Shi, which means "Building Standards".
According to Carter, under the set-piece design principles in the manual, all of the Opera House's roof shells come from a single sphere.
Forbidden City architecture used a floating-cloud effect that also influenced Utzon's final design of the famous white-shell exterior, which appears to float like a cloud above Sydney Harbour.
Carter said Utzon's side-by-side sketches of the Opera House and the Forbidden City show how the 500-year-old imperial palace was a major source of inspiration.
Before he died, Utzon revealed the Chinese festive colors he had in mind. "I am enthusiastic about the colors you find in Tibetan temples; the edge of orange just before it becomes red, or of violet when it becomes blue. I am thinking of the copper color of roofs ... that would be a wonderful color for the seating," he told a US magazine.
The Sydney Opera House interior, which was designed by government architects after Utzon left the project, has attracted criticism because of its poor acoustics.
Opera House chief executive Richard Evans has said an upgrade of the 35-year-old building was essential and Utzon was re-employed in 1999 to work with Australian architects on the new interior.
(China Daily 04/22/2009 page1)