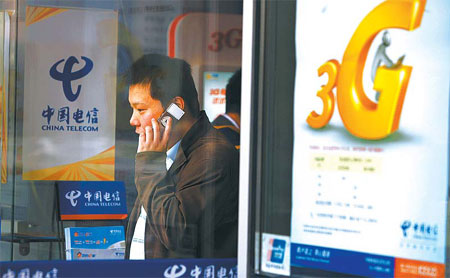 A man using a mobile phone at a China Telecom outlet in Beijing. Wang Jing
China Telecom Corp, the country's biggest fixed-line phone company, has taken a big hit from the continuous fall in demand, especially in the large cities, as more and more consumers are going in for mobile connections.
The acquisition of mobile operation from China Unicom last year has not yet made an impact on the company's fortunes, even as it reported a first quarter profit of 4.7 billion yuan, down 27 percent from a year ago.
In contrast, China Mobile posted a 5.2 percent rise in first-quarter profit as the firm maintained its leading position in China's mobile industry. It, however, warned that subscriber growth has started showing signs of a slow down.
Net profit attributable to equity holders from January to March this year amounted to 25.2 billion yuan ($3.69 billion), from 23.9 billion yuan in the same period a year ago.
China Telecom said its fixed line phone customer base continued to shrink in the first quarter but the number of its mobile phone subscribers posted a positive growth.
It lost 4.35 million fixed line phone users in the first quarter, reducing its total users to 204 million by the end of March.
But the Beijing-based telecom carrier gained 4.93 million mobile-phone subscribers at the same time, reversing the decline in the previous quarter when it bought CDMA business from China Unicom last October.
China Telecom, which was awarded a license to offer 3G services this year, had a total of 32.8 million mobile phone subscribers by the end of March, the company said.
The stock ended yesterday up 2.5 percent at HK$3.58.
It has surged nearly 25 percent this year, outperforming the benchmark Hang Seng Index, which has risen 9.6 percent this year.
China Telecom said it would strive to put into full play the synergy between its fixed-line and wireless phone services.
"The strategy of effective scale development of the mobile service will lead to short-term pressure on our overall profitability, but it would significantly enhance the company's long-term development and value creation," it said in the statement.
China Telecom, which is aiming to add 30 million mobile phone users this year, will use 30 percent of its revenue from mobile phone business to subsidize handsets, its Chairman Wang Xiaochu said earlier.
The company, which has already started its 3G services in select cities, is planning to expand the services to 300 cities by July.
"For the next 12-18 months, we believe China Telecom will place more emphasis on expanding its mobile-phone subscriber base than pursuing profitability," Danny Chu, analyst, Nomura Holdings Inc said in a report, issuing a "buy" rating on the company.
China Telecom suffered heavy losses of 16.4 billion yuan in the fourth quarter as it set aside a large amount of provisions for its low-end wireless services PHS, which is required by the regulators to be phased out in the next three years.
The company said yesterday that it will tighten the marketing budget for low-end customers for its fixed-line voice services and will shift those resources to target corporate and government customers.
Agencies contributed to the story
(China Daily 04/21/2009 page15)