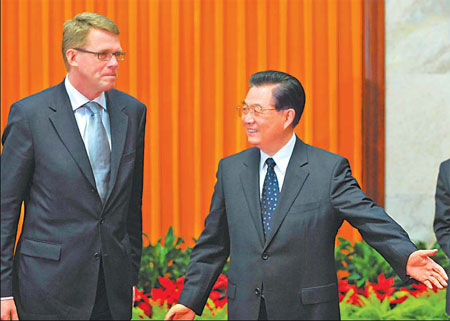 President Hu Jintao greets Finnish Prime Minister Matti Vanhanen at the Great Hall of the People in Beijing yesterday. Wu Zhiyi
President Hu Jintao said China was willing to promote ties with European countries during his meeting with two leaders from the continent yesterday.
During his meeting with Finnish Prime Minister Matti Vanhanen, Hu said relations between China and Finland had withstood changes in the international situation, and shown stable development in the past 59 years since the countries established diplomatic ties.
In the new century, frequent exchanges of leadership visits improved political relations and economic and trade cooperation expanded to all areas, Hu added.
Hailing bilateral coordination in international and regional affairs, Hu said China appreciated Finland's adherence to the one-China policy and its support in relations between China and the European Union.
"Finland views China's development as an opportunity and advocates the strengthening of bilateral ties, and China views Finland as a reliable friend and partner," Hu said.
He said China would work with Finland to promote political consultation and substantial cooperation and cope with all global challenges.
Vanhanen said Finland appreciated China's role in the United Nations, as well as its contribution to revitalizing world economy.
He also expressed gratitude for China's support to northern European countries' participation in international affairs, pledging to boost cooperation with China.
Hu also met Albanian Prime Minister Sali Berisha yesterday.
Hu said 2009 marked the 60th anniversary of Sino-Albanian ties, and the bilateral friendship has remained unchanged over the past six decades despite changes in the domestic and international situation.
"Sino-Albanian relations are now at a new starting point, with a new opportunity for further development," Hu said.
He said China would take the 60th anniversary as an opportunity to deepen friendship and cooperation with Albania and that the two countries would strengthen coordination.
China encourages its enterprises to invest in Albania, and also welcomes Albanian entrepreneurs to do business in China, Hu said.
Berisha said Albania valued its relationship with China and was thankful for its assistance and that Albania would offer more help to Chinese enterprises in Albania.
Vanhanen and Berisha attended the 2009 meeting of the Boao Forum for Asia from April 17 to 19 in Hainan province.
Xinhua
(China Daily 04/21/2009 page3)